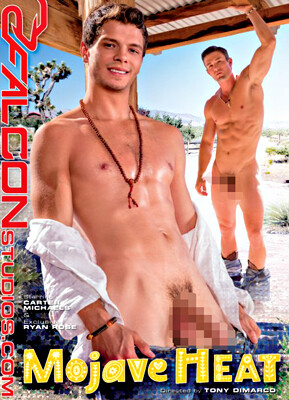 Four meat-and-potatoes match-ups filmed with smooth precision by Tony Dimarco around a gorgeous home in the high desert. Falcon vets Ryan Rose, Brent Corrigan and JJ Knight dominate several handsome young newcomers.
Cover model Carter Michaels — lean, smooth and post-twink adorable — strolls out of the desert sun to hook up with Kyler Ash, equally slender and cute and quite vocal in his appreciation of Michaels' ass-pounding. The latter reveals a dominant, sexually aggressive intensity that belies his boyish good looks and is worth exploring under kinkier circumstances.
Fellow cover stud Ryan Rose — always a pleasure — dominates muscular young buzzcut jock Damien Nichols. Rose, at peak physical form, helps himself to the handsome studpup, who grins appreciatively and submits, whether Rose is downing Nichols' cock to the root, gripping his head to forcefully direct a blowjob or driving his cock into Nichols' plush bum.
Brent Corrigan has matured into a focused, intense performer. And he has a proclivity to dominate, like Ryan Rose, with smooth professionalism when his partner's energy is more low-key. Weldon is another tanned cutie with a lean swimmer's physique (he also strums a guitar) and abundant vocal enthusiasm.
Elsewhere, sensual, dark-haired Brett Dylan and imposingly hung JJ Knight are dressed similarly in white shirts and tight jeans. They share the most palpable chemistry as they kiss with relish and trade blowjobs; Dylan is clearly enjoying the chance to suck down Knight's thick meat and does his level best with it. The two men maintain eye contact and kiss straight through to a splattery climax.
Synopsis:
When there's nothing else to do but to stay out of the sun, the studs of 'Mojave Heat' will show you how it's done. Watch eight desert hunks get down and dirty under the direction of award-winning director, Tony Dimarco. These studs are in heat and they'll raise the temperature anywhere they go. Hot jock Kyler Ash meets up with hunky Carter Michaels and after exploring each other's bodies with their mouths, Carter offers up his open hole. Kyler pumps with a steady rhythm in the hot desert sun until he finishes up on Carter's smooth, toned ass. After Brett Dylan rides JJ Knight on the bed, Brett bends over and lets JJ pound his back door. JJ gives Brett a facial and even makes Brett cum twice. Ryan Rose finds Damien Nichols lounging on the patio attempting to avoid the summer scorch. Ryan gets Damien out of his clothes and after swapping blowjobs, Ryan mounts up and gives Damien a proper plowing that leaves Damien drenched with pleasure. Brent Corrigan finds Osch Weldon playing his guitar on the patio where the guys lock lips instantly. The hunks move it to the bedroom where they explore each other with their mouths before finishing off with Brent's big, hard dick inside hunky Osch. One thing's for sure; the heat in this desert isn't a dry heat at all. Sit back and let the studs of 'Mojave Heat' get you wet, sticky, and sweaty under the scorching desert sun.