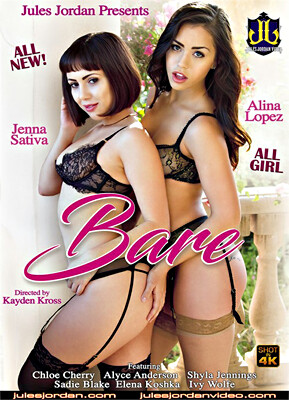 This girl/girl outing from vignette master and performer-turned-director Kayden Kross artistically showcases a great variety of ladies, all young 'uns, as they get down and dirty, boisterously chowing down on salmon/snapper/tuna/twat.
While studying together, Chloe Cherry (she's the blonde) and Alyce Anderson (the brown-haired babe with the cute nose) eventually put down the books and take out their tits 'n' cunts for some serious probing. I like how Alyce really sucks on Chloe's little breasts, while I really dig how Chloe just sits her slit upon Alyce's face, with Chloe eventually licking Anderson's anus during a fiery bit o' 69. And, Alyce sticks a machinated love tube up Chloe's colon — twice, in fact!
The next tale o' tails involves dramatic cinematography, with two young gals having an argument, amidst slow-motion elements, after which we witness Sadie Blake (the brunette) and Shyla Jennings' face — and cunt. You can hear a plane blasting overhead as Shyla sinks her lips/tongue into Sadie's undoubtedly sopping slit. Blake returns the favor, and it's arousing, to say the least. I must say, Shyla truly does clamp down hard on Blake's bush.
Sexy Latina Alina Lopez plays a maid who's caught trying on the tasty lingerie of her boss, another luscious Hispanic in the form of professional labia lapper Jenna Sativa, with some heated results. Aside from both ladies being quite pretty, they also have killer bods. Jenna services the bent over Alina well, sticking her snout up her stinker (yum!), with Lopez soon goin' down mish on Sativa. Then we have some horny pussy on pussy action, with Sativa ultimately really sopping up Lopez love juice during missionary, after which we have more lip-smacking good times. Yep, it's definitely one of the hornier segments of "Bare."
But my favorite episode has my two favorite starlets in the movie — Ivy Wolfe and Elena Koshka, both equally gorgeous — getting slutty when Elena is giving Ivy a "professional" massage, which includes a very happy ending. Meanwhile, there is some atmospheric New Age music playing in the background, and I'm crazy about the way Wolfe's body looks when Koshka has it all oiled up. Some great tease here, as Koshka slowly, gradually, deeply rubs the oil into Wolfe's soft and juicy ass, with Ivy eventually turning over, Elena massaging her erect nipples, then soaking cunt, before descending upon Ivy's vadge with her hungry mouth. Ivy does the same to Elena, and you really believe these bitches are going wild for each other. Elena then gets to suck Ivy doggie style. Lucky bitch! After which Ivy sits her delicious derriere upon Elena's famished face, while the former cunt-tinues to finger Koshka. Great stuff
Yes, this feline fornication is light enough for couples, but hardcore pervs will also enjoy it simply because of the excellent choice of ladies featured, while the last episode with Wolfe and Koshka is absolutely a barn-burner. Wonderful visuals as always from Kayden Kross.
Synopsis:
Bare is a vignette collection of women who are beautiful without makeup, portrayed in vulnerable settings and shot entirely in natural light. In one, schoolgirls Chloe and Alyce study together as they try to suppress an attraction they don't understand. In another, Alina fantasizes about wearing the rich lingerie left lying out by her boss, the beautiful and accomplished Jenna Sativa. Shyla wakes up after a fight with her lover, Sadie, and experiences the previous night in flashbacks as she showers. Ivy Wolfe feels uncomfortable stripping down fully before her masseuse, Elena, but as Elena keeps pushing the boundaries, Ivy slowly comes around. All are stripped down and exposed, bare in the light.