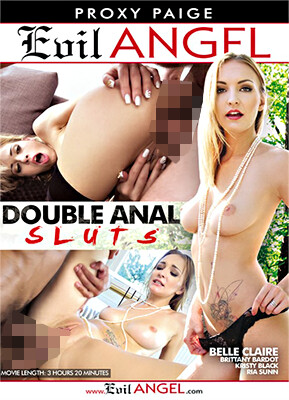 Wildly attractive (as in Belle Claire, Ria Sunn and Kristy Black) and whorishly sexy (Brittany Bardot) Czech chicks get seriously, sloppily, sleazily (yeah!) double penetrated — including their anuses, hence this Euro gonzo's title — with all of the volcanic action being shot by a highly bangable bitch herself, American porn star Proxy Paige, here awesomely directing, I believe, one of her first movie's (next to "Bite Size Anal Beauties") for the equally X-ceptional Evil Angel.
After Proxy does a seductive interview (Paige is obviously a total whore herself), Belle gets the hell penetrated outta her. While Claire looks X-quisite in each and every position, I especially loved her getting DP'd and DAP'd doggie style. She's a fine gaper, as well, and she delights in lickin' her own shit off a recently soiled, still steamin' meat stick. Reverse-cowgirl DP and DAP give us a better view of belle's bella boobs. Again, isn't it grand that such stunning women do such stunningly filthy acts? Gotta love it. And after one dude cream pies Claire cunt during cowgirl (cum from which she scoops out and eats), the other Euro slob drops spermatozoa directly into her upside-down mouth. I wanna see more of this bodacious bitch!
Ria Sunn is a sleepy-eyed beauty who's another one of my personal faves in general, here getting double-schtuped by Neeo and Ian Scott. Ria, by the way, is a fabulous deepthroater, never keeping her mouth empty, if only one of her nether holes is filled; but they're soon both filled to the brim, and it's a vision, indeed; first it's a reverse-cowgirl DP, then the same position with DAP; next just doggie anal while she shucks veiny sword, with the boys soon switching pole positions. We soon have doggie DP, doggie DAP (with some lovely gapes) for a good and nasty long time (!), reverse-cowgirl DP and DAP, an awesome double deepthroat, doggie anal with more deepthroating, more doggie DAP (how does this little waif get alla that dick inside her poo-poo pit); some spoon DP which is one of my favorite pole positions here, with the boys ultimately blasting batter into her ravenous mouth; Ria swallowing all of the cum immediately after the pop, though only one guy erupts. What happened to the other prick-er-rooni? Hmmm … still, this scene is non-stop, high-energy raunch.
Next — my favorite babe of the lot, even before Belle Claire — is tasty, pig-tailed brunette Kristy Black (with the words "I Love Anal Sex" tattooed over her ass, so you know she's a topnotch buttfuck whore), taking on black-boned Michael Chapman and white Ennio Guardi for some more nasty Prague pokin'. First, Kristy sucks a little black dick in the outdoors on a desolate walking trail, followed by some black-salami doggie style slit slammin'. Boy, does Kristy have one of the juiciest butts! Great pair of little titties, too. Chapman does a little doo-doo dunking, but not much, before they head over to Ennio's pad for the DP works. I also love Kristy's little waist, which is such a delightful contrast against her voluptuous butt cakes. We start off at Guardi's digs with a double BJ, that's deep and passionate. She loves to kiss, too, which is always a plus.
The pud positions themselves with babe-a-licious Black include (get ready for a cavalcade of scorching whackin' material!) doggie vadge then doggie anal from Chapman with one choice gape; cowgirl vadge from Ennio (one of the best positions to showcase Kristy's ample ass cakes), which morphs into doggie DP, as Chapman takes over her anus; leading to reverse-cowgirl anal with Ennio, morphing into a reverse-cowgirl DP then double-anal DP, with Kristy cheerily smiling nearly the entire time (love her coquettish grin!); then more doggie DP, some gapin', doggie double-anal (more great undulating action from Kristy's phenomenal butt cheeks), cowgirl anal, some ATMin', doggie anal (whilst deepthroating), some doggie double-anal, then doggie DPin' with all three participating parties aiming in the same direction (and babe Black visibly feeling the raging heat/pounding penetration from the intense X-pressions on her face), doggie and then spoon anal with Ennio (while she sucks down Chapman's black behemoth), and, finally (spuh-latt!-latt!-latt), both tools spewing gruel into her cute-as-hell face. Next to the Belle Claire double ravaging, this one's one of my favorite scenes of the entire year. Kristy rocks! Actually, at times (particularly when she smiles), she reminds me of a very young Jane Seymour. Do yourself (and yer willie) a flavor and check out this marvelously delicious wench!
Lastly, while she may not be as classically gorgeous as the previous three Czech sweeties, Brittany Bardot is still one potent piece of ass who'd absolutely wear you down in bed — here wearing down the dicks of Thomas Lee and the returning Ennio — with both her pink and/or (frequently rosebuddin') stink. After jamming dildos up her butthole and winking at us with said junk-hole, Britt does a double deepthroater with Tom and Ennio, gets doggie analyzed by each guy while she's standing (the dudes passing her back and forth, with plenty of ATMs), followed by a doggie DP, with Britt then getting doggie double-analyzed, doing some reverse-cowgirl DPing and double-anal (and, boy, is Britt a screamer!), gapin' and rosebuddin', lovin' a few ATMs, equally relishing missionary anal, but truly adoring doggie double-anal, and then (ker-pow!) truly taking a powerful double blast right into her kisser, before eating every last drop o' gunk. Nass-tay!
Kudos to performer/directrix Proxy Paige, who presents here, I think, one of the very best gonzos of 2018, with the wondrous double prongings of scrumptious Belle Claire and Kristy Black being true screw highlights.
Synopsis:
Fun, freaky performer Proxy Paige is an adventurous fan favorite with an amazing array of specialized backdoor skills. The lovely, young spitfire makes her Evil Angel directorial debut with Double Anal Sluts, a batch of devil's threesomes starring stunning Czech girls that like getting their assholes reamed by two big boners at a time! Slender, leggy beauty Kristy Black hungrily sucks one huge cock as another invades her pussy. The guys stretch her rectum to the limit, finally delivering a pussy creampie and a cum facial. Dolled up in sheer stockings, Ria Sunn eagerly takes a dual pounding from a pair of hugely hung studs. Her reward is a messy oral cum shot. Belle Claire meets African-American Mike Chapman in a Prague park. After fucking the white cutie's face, pussy and butthole outdoors, Mike takes her to muscular Angelo Godshack. They double-penetrate and double-sodomize her mercilessly! Experienced MILF Brittany Bardot makes her rectum blossom in a shocking, red prolapse. Two fellows plow her asshole inside out and splatter Brittany with cum.