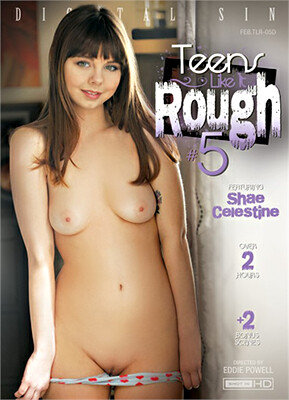 The girls in "Teens Like It Rough 5" (TLIT5) are definitely old enough to know that rough sex is taboo and a total turn-on to pervs like me. In other words, TILT5 fuckin'-A rocks from start to finish, with all four featured tasty twats proving themselves as marvelously kinky sluts.
Jenna Reid, phenomenal here, plays a way cute teen who says she's addicted to watching rough-sex porn, so her on-camera boyfriend, Xander Corvus, wanting to please her (and himself) engages in some hard-hitting ham-in-bonin'. Reid is both pretty and sexy, and she deepthroats Corvus cock to such a degree that, at one gnarly point, she actually burps when coming up for air. Right on, Jen! Xander slaps her tits, slams his salami into her during doggie like there's no tomorrow (she loves it! — whining like a little kitten!); he then steps on her head, yanks her hair, smacks her cunt with open-handed blows, gags and chokes her, fucks her face (lotsa rude noises and oodles o' saliva), jackhammers her, hits Reid's ass during cowgirl (an amazing position with jiggly-butt Jenna; which also leaves her with a pair of candy-apple-red butt cheeks), pinches her tits, and finally splooges spunk across her face. "Thank you," the smokin' little bitch purrs. Love her!
Emma Hix is a blonde, slinky spinner with whom Damon Dice has his very rough way — and it's a killer scene. Dice sneaks up on Emma in her house like a home invader, choking her from behind and grabbing at her tits and twat, with Hix hyperventilating in a nervous, real manner. Dice gets cunt-trol of her when he starts fingering her snatch, licking her anus and doggie-fucking her, standing, in the hallway. He soon brings her to the bedroom and doggie drills her there, followed by some spoon pounding, very deep blowjobin' (I mean, to the bone!), reverse-cowgirl porking (her fantastically taut body is beautifully displayed in this position), more spoon, some ass-spanking while she's bent over, additional doggie drilling (one of the best positions, as all hands are, off of her bodacious booty, making it all the more a work of (t)art for us to fully view), leading to Damon's depositing o' dick snot all over her eye, nose and tongue. Emma is a terrific rough roll in the hay!
Vienna Black's on-camera boyfriend Lucas Frost is skeptical about havin' hard sex with Black, afraid that he may hurt the little thang, but Black is dying for it, so we get her wanted tumultuous tryst via a Black fantasy — and it kicks ass, in more ways than one. Black is another cutie who likes getting her tonsils blasted out during oral. Numerous times! Lots of eye contact makes it even better. Hard missionary gives us a fine view of Vienna's luscious little bod. Doggie is also a winner, her tasty figure all sweaty and all the more tantalizing by now. I also like viewing her little anus (which is quite prominent, actually) as Lucas doggie damages the damsel, who's lovin' every long, hard inch o' that pork roll. She's good at bouncing on boner during cowgirl, begging to have her hair pulled, which Frost most assuredly does. The blowjobs are fairly cunt-tinuous, too (in-between hump positions, that is). Reverse-cowgirl, like mish, gives us a fine view of her fine anatomy, while spoon lends us a good look at her velvety, wet snatch. I positively wanna see more of this choice, submissive cunt.
And our faithful director, Eddie Powell, shrewdly saves one of the best scenes for last, as we finally have baby-faced Shae Celestine, a darling-looking honey, letting James "Mr. Wonderful" Deen get fast and furious with her. After slapping Shae's tits, as well as choking and spanking her, Deen doggie bangs her on a sofa, before choking her throat with his meat puppet a la one nasty BJ. Cowgirl gives us a superlative view of Shae's award-winning ass cheeks (so soft and jellowy), while missionary is simple but revealing angle in terms of displaying Celestine's sweet-looking mug. For the record, her little tits were meant to be harshly squeezed, which is precisely what Deen does. It, indeed, appears as if she's in seventh heaven during reverse-cowgirl and spoon, with Deen telling her to talk to him while he chokes her in the latter position. And dontcha love how she gapes during jackhammer? It's a beautiful thing. Jimbo soon blows his load onto her chin.
Each of these no-nonsense episodes is worth catching because the action is absolutely arousing, while the girls are both delicious- and succulent-looking (even a sleek chickie like Emma); but the most potent, the most powerful segment is absolutely the opener with Jenna Reid and Xander Corvus, getting us fully acclimated for further wild rides with three more young, attractive, adventurous tramps, while the boner, er, bonus scenes with sizzling whores Mandy Muse and Haley Reed (giving you six as opposed to the regular four scenes!) makes it an even better deal for your raging hard-on.
Synopsis:
These young cuties like it hard, fast and most of all... they like it rough! It's Shae Celestine, Jenna Reid, Vienna Black and Emma Hix, and they're begging to get their pussies smashed and drilled! So check out them out in over 2 hours of rough sex because we can't wait to give these hornballs everything they want!