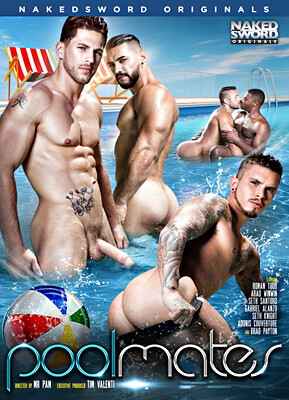 Straightforward, no-frills poolside sex, including underwater footage, soaked with bright California sun from NakedSword Originals and mr. Pam, two-time XBIZ Awards winner for Gay Director of the Year. Roman Todd and Arad Winwin are the musclebound highlights.
Todd appears to have spent much of his free time lately in the gym. His sculpted physique and stoic masculinity make for an appealing package. Pam understands that Todd is at his best when a partner who is willing and able to drive the scene is servicing him. Seth Knight is sensual and inked, whose kisses seem to ring Todd's bell, while Gabriel Alanzo is lean with piercings and tattoos. Both are aggressive bottoms — Alanzo rides Todd's boner furiously enough to cause damage — and deliver forceful blowjobs that bring Todd to climax.
Arad Winwin is dreamily handsome with a perfectly proportioned muscular physique. He helps himself to post-twink cutie Brad Payton, stroking and enjoying the younger studpup's slender, smooth physique. Payton gasps and groans as Winwin bangs him and allows Winwin to dominate.
Elsewhere, Seth Santoro is deep-plunged by African-American hunk Adonis Couveture, who lives up to his name, and goes into a zone when he is stuffing Santoro's round muscle butt with cock atop a rickety picnic table. Santoro and Winwin are at their best with a sex partner who matches their energy, hammer-and-tongs, but both matchups are still tasty.
Synopsis:
What do you do when it's 100 degrees and your fuck buddy is even hotter? You strip down and dive in head first for a non-stop suck and fuck session poolside under the blazing sun. Get wet and get off with Pool Mates.