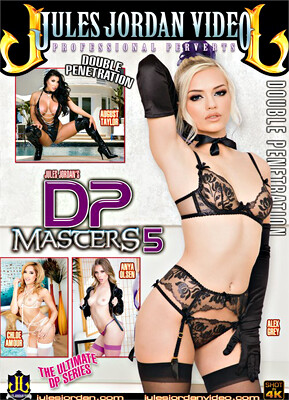 Not a bad DP in the whore house, with equally high points going to all of the lusty, filled-to-the-brim ladies, though I (and my hard-on) do tend to lean towards the superlatively slutty — and slutty-looking! (a good thing! ... a good thing!) — August Taylor.
The most classically beautiful girl in the batch is most ass-uredly Alex Grey, providing an X-cellent start to these filthy pro-seedings. Yes, Alex does provide a fine bit of double blowjobbin', but one of the true showstopping moments is when she's getting double plugged (in crapper and snapper) by Jules Jordan and Chris Strokes in the spoon position. Actually, including Alex, the other two girls who get jammed in this arousing position — and seem to adore it! — are August Taylor and Anya Olsen. But watching Grey's oh-so-pretty face schuck down nasty cock with those full head-givin' lips is a joy, indeed, to behold. She's also a fine gaper girl. The boys additionally have this weird method of DPing doggie style, whereby all three parties are aimed in the same direction, with one dude in her ass and the other in her twat. Boy, that makes for some tricky action, as the guy slammin' her crapper might get some balls slapped against his own ass, while the fella humping her vadge is bound to be smellin' more of his buddy's crack than that attached to awesome Alex. Yikes! And Jules and Chris do this posish (each of 'em taking control of ass and cunt in separate moments) with both August and Anya, as well. Mama!
As I mentioned earlier, August Taylor is perhaps my fave of the four lassies in that she's just such a horny fucking tramp, who seems to love sucking cock as much as she digs (perhaps even more so than) getting her nethermost holes double dipped. I also deeply appreciate her big, augmented tits which have a nice wobble to 'em, that is, in the correct position, like missionary for instance. Taylor looks amazing, too, in the doggie position, not only getting porked in the pussy and poo-poo simultaneously, but similarly sitting on a swivel chair, her amazing butt jutting out as her steamy anus is passed back and forth between Jordan and Strokes. And don't miss how Strokes can't help but blow his wad while banging Augustan cunt in the mish posish, with Taylor's tantalizing ta-tas just swivelin' all around the fuckin' place. Awesome!
Chloe Amour gives us the movie's only interracial sequence — and it's a damn good one! — as she plays a Jules Jordan production assistant interviewing Prince Yahshua and Rico Strong, before the fellas show her what they've got, i.e., by nearly splitting the thin but, nonetheless, luscious thing in half. One of the high points here is when the bros do a standing DP (the only one in the entire movie) with Chloe, while her reverse-cowgirl DP is way, way deep (and long!), and it's wonderful seeing the bruthahs taking turns pounding her poop pit in the spoon posish. By the way, kudos to Amour, who has such a chipper attitude throughout the entirety of her intense double schtuping. Chloe rocks!
And we end on a distinctly blistering note, as the incredibly alluring Anya Olsen takes on Jordan and Strokes, with Olsen definitely being the most aggressive of the lot of slots featured here; one of the most volcanic moments being — aside from Olsen's spoon DP — her doggie double-pen (the traditional style, not the one where all three are in the same direction; though that's truly gnarly, as well), with the boys going long and steady and really gettin' that DP rhythm goin' as they doggie the bitch; ditto during Anya's reverse-cowgirl DP. And, like Alex and August, the wench just goes bonkers over the spoon DP. Umphh!
While I have a soft (and hard) spot for August Taylor's double boinking, all four ladies perform X-quisitely, each quite obviously loving her own special double dosage o' decadence. Ab-so-fuckin'-lutely worth checking out!
Synopsis:
The Ultimate DP Series, Double Penetration! Alex Grey is plugged up air-tight by Jules & Chris. Big Titty beauty August Taylor gets a double-dicking with deep penetration. Chloe Amour takes 2 BBC's to DP heaven. All holes are open for business as Anya Olsen shows us how much of a dirty slut she is.