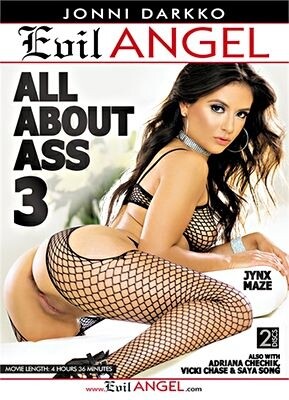 As the title implies, the latest anal extravaganza from deviously brilliant Jonni Darkko is all about ass-fucking, with some of the truly hottest women in porn blowing — and getting their anuses (and twats) blown out — by the director; with the sphincter sluts cum-prised of two Latina vixens (Vicki Chase, Jynx Maze), an Asian ass-queen (Saya Song) and a Caucasian slap-'er-in-the-crapper-and-snapper coquette (Adriana Chechik), though not necessarily in that order, during the highly coarse course of these two awesome discs.
Disc one begins with Adriana Chechik getting a potent POV poo-poo pounding from Darkko dick. As you might already know, Chechik's a magnificent cock-choker, gagging deep here and then taking it equally deep up her dung ditch. One of the best positions is jackhammer, with a number of great ATMs. Doggie ain't too bad, either, with Darkko going back and forth between shitter and clitter, as Chechik gives us a few sweet anal gapes and more amazing ATMs. Spoon anal is equally arousing, really spotlighting Adriana's deliciously golden brown ass cheeks, with Darkko eventually DPing the bitch with a cock in her ass and a huge black dildo up her cunt, with many rosebud moments in-between. Whoa!
One of my favorite Latina lust bunnies, Vicki Chase, is next, and, as usual, she does not disappoint. Vicki gives a phenomenal hands-free deepthroat, with lotsa, lotsa saliva, after which Darkko goes straight for the dark, as he ass-bangs her doggie style, with sweet Vicki throwing in some fine gapes/winks, while there's terrific shots of her luscious booty. There's also missionary and spoon anal and, of course, numerous stringer-/tongue-/gag-accented ATMs, all of which merely throw gasoline (or natural lube, if you will) on the scorching temperature here.
Disc two, if you can imagine, is even more fiery, with the cute-/nasty-as-hell Saya Song beginning the bunghole-bustin' festivities. After Darkko stretches Saya's sphincter with some dildos and vibes, she seriously chokes on the real thing, with Darkko having Saya capture her tons of excessive spit in a martini glass, before he uses the spit to moisten up her anus, at which point he salami-slams said shitter doggie style. She's such a marvelous moaner, that Saya! A pretty darn good gaper, too. And what a choice pair o' round and succulent butt cakes. I also like how Darkko grabs her hair and jams his crap-soiled cock down her gullet. Mish anal is way deep and (natch) dirty, with Saya's meaty cunt getting a vibe while Darkko dick mines for nuggets — and there are plenty of ATMs accompanying! ... along with a wee bit o' (whew!) man-ass eating. Love this filthy bitch! And spoon anal with this luscious slut is just out of this world, with a split-shit screen showing this spoon destruction at different moments. And, boy, does Darkko coat her mug with muck, shown (like all o' the cum shots in this title) from two different angles.
And we have quite an apocalyptic anal ending, with the ever-fuckable Jynx Maze getting a heavy mouth-/cunt-/ass-humping from our boy with the camera. Jynx, like Saya, saves her oodles o' BJ spit in a martini glass during her gnarly BJ, with Jonni boy coating her crapper with the au-natural liquid for some freaky doggie anal. Man, what a juicy buttocks on this whore! Doggie anal is followed by mish anal (love the black fishnet outfit sizzling slut Jynx is wearing!), with mucho gapes and groans — and (thankfully!) ATMs! Spoon anal is also mindblowing, what with that world-class Jynx booty. She also has this awesome way of projecting the best sleepy-fuck-in-the-morning no matter how hard she's hammered in her quiverin' culo. And check out how Darkko gets cum all over her right eye. By the way, the side angle (as opposed to the frontal one) of this splatter matter is even hornier!
It's nothing but molten ass-sex, from start to finish, with ridiculously tasty porn babes in this desert-island double disc. Definitely do not miss this shit!
Synopsis:
Stylish pornographer Jonni Darkko's signature is glamorous beauty crossed with crude, graphic depravity. That's what we get in All About Ass 3 -- the director spotlights an illustrious cast of striking starlets in marathon sessions of primal anal fucking. Award-winning superslut Adriana Chechik joins Jonni for an explicit backdoor spectacle. He treats her to harsh dick/dildo double penetration, injects her rectum with lube, and drills her butthole to extreme gaping. Comely Latina diva Vicki Chase stuffs her ass with a dildo, teasing herself and viewers. Jonni's cock wrecks her rectum; decadent Vicki slurps dick ass-to-mouth and enjoys a majestic facial cum blast. Pretty Asian-American Saya Song uses a giant toy to expand her rear orifice for raunchy reaming. The playful cutie proudly flaunts her vastly stretched sphincter and rudely rims Jonni's bunghole. Brazen porn goddess Jynx Maze gathers spit in a glass as Jonni fucks her face, later using the slobber to lubricate a lewd buttfuck! She pries apart her shapely ass cheeks as Jonni bulldozes her booty, and Jynx flaunts her open, farting colon!