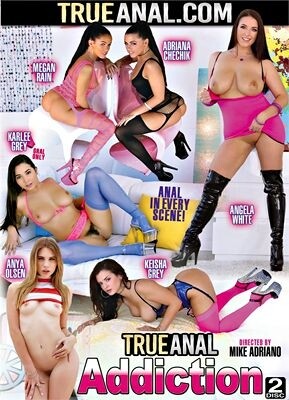 Two scorching discs filled with five anal sluts (and one who doesn't take it up dee ass, but(t) give lots of dee ass-to-mouth action), all from performer/director/perv Mike Adriano and the fine folks at Jules Jordan Video.
Disc one has two scenes (as does disc two), with both sizzling episodes double-teaming superior whores with Adriano's pecker. We start with ultra-tramps (a good thing!) Adriana Chechik and Megan Rain, proving their marvelously sleazy ways, initially with a gagging, choking, rolfing double blowjob/deepthroat that has enough spit in it to fill a gallon-sized carton o' milk. Impressive, ladies. Adriana first sits her shit on Mikey dick, reverse-cowgirl style, with Megan providing plenty of ATOGMs and female ass licking; and it's girl-on-girl rimming, of which I could easily watch an entire movie.
Then, after getting a speculum crammed up her crapper, Megan herself takes the poop-pit plunge doggie style, with Adriana now returning the oral flavors; followed by Chechik getting the doggie-anal treatment; after which Mikey places these fine fuck specimens side-by-side, bent over, and goes crack and forth 'tween their buttholes. Mish-anal is next for both trollops, then reverse-cowgirl anal (shot like doggie), spoon anal (the girls' luscious butts side-by-side), more mish anal/vadge/squirting (Megan stacked on top o' Chechik) with Mikey going in and out of various holes; before he finally pops on their cute faces, with the lascivious lust bunnies sharing the still-steaming gametes. Awesome whores!
The two Grey vixens are next, with the ever-delicious Keisha Grey taking it up the ass, while Karlee Grey provides, along with Keisha, plenty of oral X-pertise. After Mikey sucks both bent-over Grey asses (for a good long time!), some choice double deepthroating ensues, with lotsa saliva (yeah!) and some male-ass eating (blecchh!). Keisha then takes it up the ass via missionary, with Karlee providing loads o' slobbering ATOGMs, while eating Keisha cunt/culo at every given chance. Next, Keisha takes it up the ass cowgirl style, with Karlee marvelously repeating her oral talents. And it's great watching Keisha's killer booty in action; one of the best butts in the biz. Ditto for her titties. And, hey, Karlee's got one tasty pair o' ta-tas, as well. And (what we've been waiting for) doggie anal for Keisha is next, with Keesh never seeming to get enough man-meat up her turd tunnel. She then takes a speculum up her shitter whilst on her back, with Karlee blowin Adriano and then spitting into the spec as Keisha giggles away. Then Keisha squats and squirts out the spit into a glass (for the simple sake, apparently, of kink itself), followed by some reverse-cowgirl anal a la Keesh, more ATOGMin' from Karlee and ATMin' from Keisha, until our man Mikey squirts splatter into the latter's gob, with both hussies sharing the gunk. Nice. Just wish Karlee took it up the kah-kah, as(s) well!
Disc two has Mikey sweatily, hornily goin' one-on-one with Aussie Angela White and, afterwards, sweetie pie Anya Olsen. After munching on Angela's huge all-naturals, Adriana sucks on her bent-over bunghole and twat, fucks her impressive chest pillows, gets his boner blown big time (as in deep and gnarly), as well as has his own stink-hole sucked (yechhh!), bangs her butthole doggie style/cowgirl/mish/spoon (the latter being my own fave position here), with plenty of ATMs thrown in (surely not free of charge), before MA (as in Mike Adriano) blows BB (as in boy batter) into her cake hole.
Next we have the scrumptious Anya Olsen beautifully, bawdily rounding off this double disc o' dynamic decadence. Adriano chows down on Anya's meaty cunt and tight anus before getting majorly deepthroated by the major babe (it's one of the movie's very best suck-offs, and that's saying a lot with all of these incredible female sperm-formers). Mikey man then plugs her pooper (nicely greased up) spoon style, followed by anal a la mish, cowgirl and doggie (all including a few fun gapes and lovely ATMs), before he sprays semen all over her. Anya kicks ass! — and knows damn well how to get her own fine ass seriously screwed!
"True Anal Addiction" is nothing short of brilliant, as far as its apocalyptic buttfuck banging with some of the sexiest, sluttiest slatterns in the biz.
Synopsis:
Two scorching discs filled with five anal sluts (and one who doesn't take it up dee ass, but(t) give lots of dee ass-to-mouth action), all from performer/director/perv Mike Adriano and the fine folks at Jules Jordan Video.