Tushy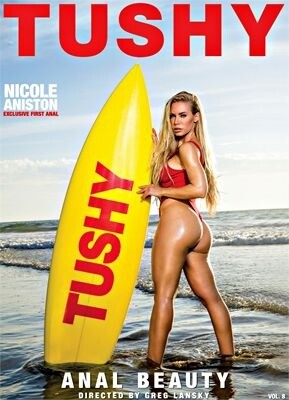 Greg Lansky directs yet another outstanding volume of four anal sex scenes, starring the industry's most fuckable — and nastiest! — starlets.
In a simple story, the smokin' Nicole Aniston, playing one fetching fucking beach lifeguard, gets down and (doo-doo) dirty with a lucky boob, Mick Blue, whom she met at a party the other night. After a, literally/figuratively, smooth BJ (nothing crazy, that is), Nicky bounces on McDick cowgirl style, with Mick sticking prick up her shit; and it's great seeing such a pretty girl lick her own shit offa a crap-soaked stick. Reverse-cowgirl anal is horny, as(s) well, giving us a tasty view of Aniston's succulent snatch, while we also get a neat gaper. But there's more where that came from during doggie anal. And mish anal, actually, shows off plenty more of Nicky's amazingly taut body, with several additional delish gapes ensuing.
Megan Rain has the hots for a famous DJ, here played by Chris Diamond, with the anal princess (Megan, not Chris) showing what she's got down below — and, boy, does she have talent down under. Her saliva-drenched deepthroating of Diamond is nothing short of brilliant, with Megan making a point of not using her hands. In turn, it clearly looks as if her entire universe is that cock in her mouth. Nothing else exists to her. Great whore.
Aside from Diamond's occasional grab-assin', cowgirl with Rain is mesmerizing; followed, eventually, with reverse-cowgirl anal — letting us fully view Rain's killer, all-natural body — with ATMs close by; while doggie anal is ass-tounding, as Diamond dick looks like a small arm going in and out of that exit hole. Mish anal, like reverse-cowgirl, lets us fully absorb Megan's incredible body, with Rain's (hard to believe) tight anus (after all o' those buttfuck flicks!) doing its best to quickly close after a gape; her elastic craphole snapping shut ever so quickly. And, soon enough, Diamond does an anal cream pie. Raunchy Rain, of course, lives for this crazy shit, scooping the gunk from her stinker and eating it. Super whore!
Alex Grey, one foxy/filthy blonde, takes on Jean Valjean, whose house she's sitting in the story, with our gal soon sitting her shitter on the French pudster's over-worked baguette, after he catches her taking a shower in his home in his, supposed, absence. Alex gives a fine BJ, with good eye contact, especially when the Jean genie face fucks her. As usual with Valjean, he grab-asses way too much during cowgirl and doggie, getting his dabs all over that work of art, although there are some moments where he lets up and allows us (as it should be!) to imbibe of this babe's babe-a-licious booty. And, no, she has no prob whatsoever with ATMs. We get quite a few fine gapes during reverse-cowgirl anal, followed by some cute ATMs, while you really get a terrif view of her Grey's incredible ass (and gaping anus!) during doggie; and even more gapes arise during mish anal, with Frenchie ultimately (like Diamond in the previous scene) jettisoning jizz up Grey's shitter. Wow!
The always-welcome Jillian Janson, playing a slutty flight attendant who likes hooking up with her more hunky passengers, hooks up with (another!) "famous" DJ, this time played by the returning Chris Diamond, who barely speak English in the story but knows the international language, as does (as we well know!) naughty ass-fuck princess Janson. After giving Chris a deep 'n' dirty poolside BJ, Janson moves inside with her well-hung tool, really kicking up some sparks with both twat 'n' tukus. Highlights include spoon anal (what a great voluptuous ass on Jill, who also gapes marvelously!), saliva-drenched ATMs, hypnotic cowgirl vadge, crazy reverse-cowgirl anal (morphing into a strange sorta jackhammer session), and (but of course!) doggie anal which shows off Janson's gorgeous pooper. And check out that rosebud action during mish anal (which also morphs into another jackhammer session), with our boy Diamond blowing gametes all over Jill's open and greedy (yeah!) gob. Love this girl!
Each one of these tasty turd-bin-minded tarts fully rocks the people's cock, with director Lansky (as usual) laudably capturing the in-your-face action with clear, crisp videography, allowing you to fully fall in lust with butt-bangin' babes Nicole, Megan, Alex and Jillian.
Synopsis:
TUSHY.com is back with the eighth edition of its seminal series, Anal Beauty Vol. 8! Award winning director Greg Lansky's unrivaled eye for beauty is in full display, capturing authentic, passionate performances of real models who love anal sex. Nicole Aniston, by far the single most in-demand model on TUSHY, is our cover model in her debut in an exclusive anal sex event. Also featuring staggering performances by Megan Rain, Alex Grey, and Jillian Janson. Come for the star studded roster, and stay for TUSHY.com's signature production value and memorable story lines. Anal Beauty Vol. 8 is a must for connoisseurs and new fans alike!