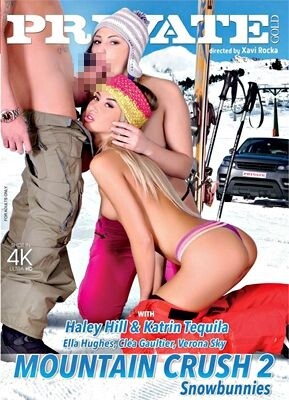 Even though this Private Gold entry (#210, no less!) is packaged as a feature, there's really far more sucking and screwing than story. Basically, amidst picturesque winter snowscapes — and in plenty of warm and cozy bedrooms — great-looking Euro babes chow down (with mouths, cunts and, in some randy cases, anuses) on cocks. And on this fresh meat menu, you get two Russians (Katrin Tequila and Verona Sky, both 27), a Brit (Ella Hughes, a Southhampton native of 22 years), a Frenchie (Clea Gaultier, also 27), and even a Serbian (the scrumptious Haley Hill, the youngest featured whore at the tender age o' 22), so it's quite a tasty smorgasbord o' sexy lookin', salacious foreign bods.
We start off with a lil' interracial action, as the fair-skinned and juicy Ella Hughes filthily takes on the black boner of Antonio (very clever last name) Black. Miss Hughes definitely knows how to choke on this fellas well-ripened man-sicle. It's truly a vision, too, watching Ella stick her luscious butt up in the air as Tony first sucks cunt then slams his sword deep into her clam — doggie style! — with Ella's patty cakes wondrously jigglin'. He doggies her for a good long time, too. I also dig how Tone hoists Ella up and fucks her mish style above the ground. Tony then drives bologna via reverse cowgirl (lotsa female-ass-upon-male-pelvis smackin' here), followed by some 69, deepthroating, spoon (showing off, as does reverse-cowgirl, Ella's choice little titties), some gushing a la Hughes, and (spuh-lattt!) a pop shot right in the kisser. Ella rocks.
Next, two porn stars with the last name of Gaultier (they must be married, as I'm sure — darn! — they're not brother and sister) get down in the same toasty warm abode in the frosty woods; and while French babe Clea Gaultier might not be classically beautiful, she's extremely fuckable, a cunt-clusion with which her hubby (yet another) Anthony quite obviously agrees. In front of a crackling, popping, flamin' fireplace, Tony boy gets sucked off briefly, before Clea sticks it up her soppin' slit cowgirl style — really ridin' that pump-puppy — soon taking it doggie, with Anthony definitely hammerin' home, followed by reverse-cowgirl anal (yep, she takes the shit-chute plunge!), spoon anal, cowgirl anal (with some memorable Clea cheek gyrating), and a pop upon the ol' chin-er-oo. Yeah!
We're soon in a ski lift high above the snow, with lucky fuck Porto De Bilbao (sounds like a portable outhouse, dunnit?) getting briefly sucked by Serb babe Haley Hill and Russian hottie Katrin Tequila, after which they do a little skiing on the slopes, leading to Porto getting a double scoop o' snatch in yet another comfy, private lodge (this time in front of a huge window, with the trees and snow impressively in the distance). Both Haley and Katrin take turns sucking dick and man ass (told you that fucker Porto was lucky!), before both of their whorish cake holes descend upon Porto prick.
Each girl also eats the other's holes while one of 'em is getting fucked, so mouths are ass-iduously utilized/cunt-stantly busy. Reverse cowgirl shows off Haley's hellacious hooters (talk about a near-perfect pair o' boobies!), before Porto moves from her cunt to her crapper, then back and forth, crack and forth. Kat doesn't mind doing a little ATOGMin', neither. We get an awesome view of Kat's equally awesome backside during cowgirl. And you don't wanna miss Haley taking it up the ass during doggie and spoon, with Porto blowin' dick snot all over her ass during the latter (ultimately splatter) position.
After Katrin Tequila sucks the black dick of Antonio Black in another ski lift, the blessed bastard takes her inside one of those very habitable locales and really face-fucks the tattooed Russian tramp, soon slamming her clam doggie style (really hard!), then scraping her sphincter spoon style, flipping his prick back and forth between snapper and crapper, after which she sits shit and clit reverse cowgirl, followed by cowgirl vadge, then cowgirl anal, the latter position really showing off Kat's fine booty (with Tony, again, regularly switching holes), before splooging upon Ms. Tequila's pretty puss.
Verona Sky and Haley Hill next suck and get humped by white Anthony and the similarly returning Porto in the great snowy (and surely cold!) outdoors, soon heading their heads (big and small) indoors for one truly choice foursome. You can't keep your eyes off of Haley because she's so gorgeous and her body is so luscious; but you also can't stop looking at Verona because she's so damn horny, making devilish eye contact whenever she can, and sincerely loving it up the culo. Sadly, Haley doesn't take it up the hemorrhoid hamlet, letting Anthony fuck her for the majority of the time, while Porto gets to fuck the living shit, literally, outta Verona for the most fart, er, part. My favorite moments — other than Porto hammering va-va-voom Vera's anus doggie style — is when Porto is banging Haley doggie style, while Tony is humping Vera's fudge factory in the spoon position, with Vera quite visibly lovin' every filthy inch of her stinkhole invasion. These two foreign sluts make one helluva good pork pairing!
Aside from the excellent second unit work (merely a fancy expression for outdoor/landscape videography; in this case, superb shots of skiing, snowmobile riding and various wintry expanses), "Mountain Crush 2" is a joy to view — for both experimenting couples and hardcore pervs — for its marvelous selection of Euro vixens. And (yah!) there ain't a condom in sight, neither!
Synopsis:
Private returns to the mountains this winter to bring you the leg quiveringly cool Mountain Crush 2, Snowbunnies and there is only one way to keep warm! Ella Hugues, Katrin Tequila, Clea Gaultier, Haley Hill or Verona Sky, break the ice with hardcore anal, intense threeways and interracial orgies; melting the hearts of their well hung studs.Who needs a summer vacation to chase tail when you can slam alpine ass. This winter Private s gorgeous girls drown in an avalanche of cum and they don t want rescuing, they just want more!