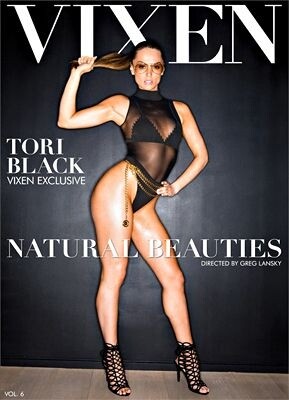 Greg Lansky delivers four sexy scenes involving five of the industry's most natural beauties. Featuring Abigail Mac, Ariana Marie, Bree Daniels, Cadey Mercury and Tori Black in her first boy/girl scene after 6 years (!!!) … "Natural Beauties 6" meshes storyline and dirty, filthy fucking quite naturally.
Doing yet another rendition of a Hollywood favorite, Tori Black starts off the title by taking on the role of Catherine Tramell in "Basic Instinct." Channeling her inner Sharon Stone, she kills the scene where Catherine is being interrogated by the police, and flashes her vagina while crossing her legs to distract them. "Do you still have what it takes, Miss Black?" One of the officers questions. Tori leans in, looking sexier than ever in the white, sleeveless turtleneck dress. "I'd be pretty stupid to plan a comeback if I didn't think I had what it takes. I know I have what it takes. I'm not stupid." Fucking brilliant! And, Tori really hits the mark acting wise.
As it goes, Tori and Jean Val Jean make it back home. Tori pins him up against the wall immediately, pressing a rough kiss on his mouth. They tumble back and forth until they make it on to the bed. The white sheets and pristine background really accentuate Tori's dark hair, dark eyes and killer cheekbones. The duo have an easy chemistry, and look sexy together. The scene is sensual, too. Jean lies on top of Tori and fucks her from behind with real passion, it's amazing. Tori Black has what it takes to make a comeback y'all.
Up next, Ariana Marie explains to the viewer that she's moved in with her boyfriend, and it isn't working out. When her boyfriend's cousin Chris Diamond moves in, Ariana finds herself spending more time with him than her boyfriend … and things get a little raunchy. Going with a classic, Ariana plans to seduce Chris by asking for his help with spreading lotion on her body. Wearing nothing but a towel, Ariana lets it slip right off for Chris to see. Oh my god is her body amazing!
He'd be stupid to say no! (And he isn't stupid!) Chris definitely has one of the biggest dicks in porn, and he and Ariana know certainly how to use it. She drops to her knees, and gets his beer can thick cock right down to the base of her throat. Ariana gets to ride the disco stick first — Chris pumps furiously inside her, making her moan loudly. Eventually, she gets fucked in doggie roughly, and gets a big splat of jizz right on her face. Yummy!
The next scene features some hot girl/girl action. Cadey Mercury plays Bree Daniels and Jean Val Jean's babysitter, who gets involved in a threesome with the couple. I love Bree's blue ensemble, as it's a nice contrast from her fiery red hair. Mercury does a fine job and really leaves an impression.
Jean is always a superstar. His body is amazing — rock hard abs and an even harder dick, which both girls are eager to please. Bree helps lead the young Cadey; undoing Jean's pants and then pushing him back onto the bed. Bree lets Cadey mount him, and holds her hand while she rides his dick. There's some A2M, but a lot of lapping up pussy juices. While Jean fucks Cadey in reverse cowgirl, Bree eagerly sucks up the wet juices coming out of her. Hot scene.
Last, but definitely not least is my favorite girl, Abigail Mac, who is paired with handsome bugger Christian Clay. Abigail plays a model (she's totally got the look), who's decided to stay in L.A. permanently. Christian plays a photographer, who eventually gets lucky with Abigail. She proves to be an amazing dick sucker by completely taking the length of him; he's sweet with her, too. He pushes back her hair and keeps eye contact the whole time. When he finally gets to fuck her, he's exceptionally eager. (I don't blame him!) Abigail backs up into his dick, and really controls the scene. She rides him cowgirl style, then lays back and gets her pussy eaten. She looks particularly hot on her back, with her tits out on full view.
Lansky always manages to make dirty, rough sex look pretty. I love it. These natural beauties really shine! Get this one ASAP.
Synopsis:
Back by popular demand! VIXEN.com is proud to present Natural Beauties Vol. 6! Greg Lansky, stops at nothing to bring you the utmost in natural beauty. Call it a comeback! Legendary beauty and award-winning performer, Tori Black, is your cover model and stars in an exclusive headlining scene. Also starring Bree Daniels, Cadey Mercury, Abigail Mac, and Ariana Marie in performances that you have to see to believe. Come for the beauty, and stay for VIXEN.com's signature production value. Natural Beauties Vol. 6 will simply leave you breathless.