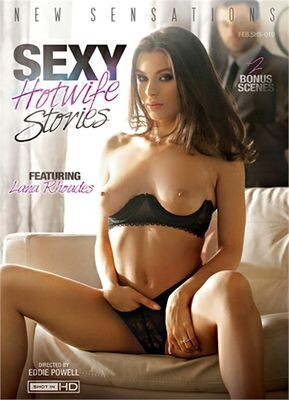 Not only are the four featured hotwives here sexy, but their stories are, too! And let me just say that Lana Rhoades, Olive Glass and Kimber Woods truly shine here like the fine tramps that they are, with this torrid threesome reaching a XXX tie.
The hotwife tale starring cutie Jaye Summers and the reliable rod of Lucas Frost finds our two specimens humping like mad on a couch, with the unseen perverted husband leasing out his trophy wife to this lucky boob for boisterous balling. Ms. Summers is a spirited lil' waif, looking terrif during doggie. But it's the other three lusty lasses who'll really send your cock into orbit.
The movie, actually, starts out with an absolute nuclear blast as James Deen bangs nothin' but the butthole of the ever-luscious Lana Rhoades, playing an insatiable chick whose unseen, thoroughly bent hubby demands that Deen destroy his wifey's dunghole. Not only is Rhoades a fine cocksuckette, but she's a vision to behold in every anal position offered (and there are many!), with two of my faves being spoon and cowgirl, the latter highlighted with Lana doing an impressive ballerina's leg split while her sphincter is fully secured around James' joint. Awesome!
Brunette babe Olive Glass, sporting a striking page girl haircut, gets kinky as a total submissive, per her own fucked-up hubby's (s)instructions, allowing Xander Corvus to decadently dominate her. Olive rocks during cowgirl, as does Glass's killer ass; ditto for doggie, when her hands are tied behind her. But the supreme moment is when our bound babe is forced to suck Corvus cock with no hands, going deep and inevitably making a marvelous mess with the stringers produced. There's also one positively amazing angle shot from beneath the sizzling no-hands-suck-off action, too. Whew! That Olive's a keeper, alright!
The other bawdy brunette here, Kimber Woods, reminds me of 80s porn starlet Kimberly Carson (anyone remember this scorching slut?), delivering one of the most erotic sequences as she gets down and dirty with Jessy Jones, with Kimber's own twisted husband listening to all of the nasty goings-on via cell phone. I love Woods, for one, because she's just so into sucking Jessy's prick, constantly sighing like the ever-famished whore that she is, while looking raunchily resplendent in the cowgirl and doggie positions. I, actually, wish there were more energy put out by Jones here, and that he would've totally wailed on this wonderful tail. But it's really more of a sleepy, sex-as-a-drug-induced tryst, which works quite well, too! Kimber is one heavenly whore I definitely wanna see more of!
I can't speak highly enough of the three highlighted strumpet stories: Lana, Olive and Kimber are tarts who were simply born for porn. Don't miss 'em here!
Synopsis:
If walls could talk, they would tell you some of the sexiest hotwife stories you've ever heard! Luckily, we've captured every incredible orgasm and hot steamy load in one amazing film. Now cum with us and relive the moments with some of the most beautiful hotwives (including Lana Rhoades, Olive Glass, Jaye Summers and Kimber Woods).