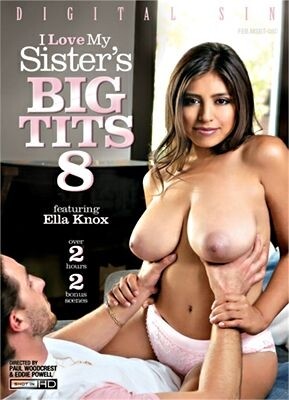 This dirty Digital Sin series from solid smut auteurs Paul Woodcrest and Eddie Power is a rocks-off porn programmer for both the illusive couples crowd and yer more hardcore porn connoisseurs ("raincoaters," if you will). All four busty babes featured in ILMSBT8 (wow, we're really up to volume eight?!) are thoroughly slammable in their own unique ways. But it's 24-year-old Latina/California native Ella Knox who's the true boob superstar in this all-around horny whacka-whackanthology.
And, hey, the other three busty broads are, again, most assuredly quite bang-a-licious. Skyla Novea and Stacy Jay may have augmented orbs, but the lassies still know how to do the groin grind. Skyla gets a literal rubdown from her masseur stepbro Chad Alva, before the latter splatters her with bro' batter, with the best pre-pop position definitely being doggie, with Novea's choice cheeks gyrating like friggin' mad. Bruce Venture gives his annoying stepsis, Ms. Jay, a grudge fuck, with the hope of shutting her ever-whining mouth (for a few peaceful moments, at least). For the record, Stacy's most notable stance is cowgirl, while she offers one super sleazy (a good thing!) suck-off session.
Next to Ella Knox, Skylar Snow has the only pair of all-naturals; and it's sexy SS who's caught masturbating by her curious stepbro' Jessy Jones, with JJ soon getting himself some downhome strange. Skylar's best position, like that of Skyla (please don't cunt-fuse the two), being doggie, with those bodacious butt bongos roll-roll-rollin' along with the utmost in raunch rhythm.
But let's get down to cases: the scrumptious Ms. Ella Knox. I am positively nuts about her appearance and attitude, both of which kick ass. Knox basically seduces her stepbrother, in the form of the very fucking lucky Lucas Frost, who's visiting their home during a college break. And there just isn't a bad position with curvaceous cutie Knox. In fact, with her voracious appetite for dick, as well as her marvelously big 'n' sloppy boobs and bounteous bush, Ella reminds me of some kinda '70s porn starlet throwback, which is refreshing, to spray the least. I also love how her breasts-ta-sez get all shiny with sweat, and how they oh so offensively (yes!) jiggle 'n' gyrate during every position she assumes, with reverse-cowgirl and doggie (see how those fun-bags hypnotically sway while the scorching bitch is bent over!) both taking the cake. And check out what a far-out deepthroat session she offers lucky Luke. Dayim! I just can't get enough o' naughty Knox, including her tasty tukus and, natch, noteworthy knockers. Ella? — will ya marry me, ya beautiful 'n' bawdy bitch? Thought so.
Well, before my future ex-wife and I tie the knot, witness for yourself awesome Ella burning up the small screen in this scorching big tits on stepsis series — along with (you are far from forgotten, ladies!) fetching busty B girls (the saucy S's!) Skyla, Stacy 'n' Skylar. Wank on!
Synopsis:
Being the brother of your horny stepsister has some big perks, huge perks! Get a load of Ella Knox, Skyla Novea, Stacy Jay, Skylar Snow and their huge racks that are just dying to be played with! These cuties know how to use their perfect tits to get exactly what they want...and family is no exception!