The Art of Anal Sex, Vol. 6
Tushy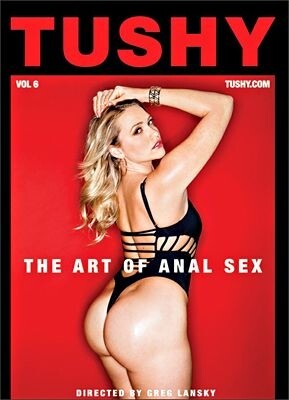 Some of the truly tastiest tarts in XXX take it up the tukus in this superb sixth volume of director Greg Lansky's amazing anal anthology series.
Mia Malkova, as marvelously meaty as ever, plays an Internet model who'll use any means to please her sponsors, in this case Austrian gent Mick Blue — who helps pave the way for her cyber suck-cess, ultimately leading to one scorching sphincter sequence. After a brief poolside BJ, Mia and Mick move indoors to get seriously salacious. I love Mia's constant eye contact she makes during her oral offering, though Mick does (yes!) frantically face-fuck her at one point, complete with lotsa gags 'n' saliva. Good job, Mickey! Then, once having humped Mia in the pussy via cowgirl, Blue shifts his bone into her bunghole, with Mia giving us some wonderful gapes, a little ATMin', before moving back to cowgirl, a shift to reverse-cowgirl anal, more ATMin' and doggie anal, which has some of the scene's very best gape-er-oo's (and plenty of 'em!). Next is missionary anal, including one helluva jackhammering X-ercise, more gapes and a choice sloppy pop o' prick-juice in Mia's pretty mug.
The slutty Keisha Grey plays a girl cheating on her rich boyfriend as she indulges in Chris Diamond, who's a dude renting out a spare room in her boyfriend's lavish pad. After another short but horny poolside BJ, Grey and Diamond go inside so our boy can, in turn, go in through the ol' backdoor. Grey is a fantastic BJ artiste, making foul noises as Chris cock plunges deep inside her gullet, with gorgeous Grey producing plenty o' stringers. Cowgirl with this phenomenal wench is amazing, especially when her ass cheeks are allowed to work all by themselves. Cowgirl anal is even more boner-bursting, with Keisha getting an awesome groove goin', and for a good long time, too. Doggie buttfucking is next. Even more fanny-tastique! Just adore them Grey gapers!
Then we have mish anal, giving us a grand view of Keisha's dreamy tits and appetizing abs, followed by a few more grungy gapes during a fast and furious jackhammer session. Behind her boyfriend's back, trampy but gorgeous Anya Olson gets down and dirty with an old flame, in the form of returning Spanish swordsman Chris Diamond. Anya has a hypnotic pair of penetrating eyes, making brilliant contact with lucky Diamond. And what an ass on this fox! Her cowgirl vaginal sequence rocks; followed by reverse-cowgirl anal, an ATM, doggie anal (wow! — another perfect posterior!) complete with some A-mazing gapes; mish anal, where Chad boy goes back and forth between crapper and cunt (for a bit, at least), leading to an anal jackhammering (love it!), and the ol' pop-shot-a-rooni.
Looking as fuckable as ever, Kristina Rose goes crazy for the cock attached to her sister's future husband — namely, Markus Dupree — on (can you believe?) the actual day of the wedding. What a great slut! And saucy slattern Rose first gives a filthy BJ, followed by cowgirl vaginal (check out those picture-perfect butt muffins!), cowgirl anal, some hungry ATMs, reverse-cowgirl anal, more ass-to-mouth decadence, some fun gapes, back to reverse-cowgirl anal, doggie anal (whew! — once again, that Rose rear never looked better!), some gritty gapes and outta sight ATMs, mish anal and (blatt! blatt! blatt!) a nice sperm soiling o' cute Kristina kisser.
"The Art of Anal Sex 6" is volcanic from start to finish, thanks to the ever-whorish X-pertise of buttfuck babes Malkova, Grey, Olson and Rose. Get it — you won't regret it.
Synopsis:
From the award winning studio of TUSHY.com, comes The Art Of Anal Sex Vol. 6 - the highly anticipated next installment of the seminal series. Masterfully directed by Greg Lansky, this collection of scenes fully celebrates the raw beauty and sensuality of anal sex. Cover model Mia Malkova makes her TUSHY.com debut as a social media starlet willing to do whatever it takes to further her career. Also starring Keisha Grey, Anya Olsen, and Kristina Rose in superb performances of their own. All wrapped in the high-end production value, breathtaking locations, and captivating stories you've come to expect with TUSHY.com, The Art Of Anal Sex Vol. 6 will take your breath away!