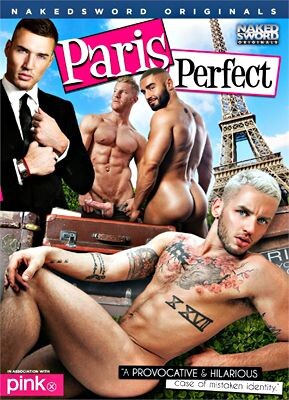 A jaunty, five-scene romp across the pond to Paris skillfully lensed by mr. Pam with a welcome sense of humor. Megastar Francois Sagat makes a return to blue movies while the friendly rapport between Colton Grey and Johnny V. is a treat.
Colton Grey is a striking package, lithe and compact with a bubble butt, sensual lips, eye-catching body ink and wide, startlingly blue eyes. He's also a demon between the sheets. He more than matches the sexual mojo of tall, musclebound Trenton Ducati for a sizzling oral hookup that culminates in wet, splattery ropes of cum.
A betrayal by Ducati and a pinched credit card sends Grey and best bud Johnny V on an impromptu trip to Paris. Things go downhill from there, depending on one's point of view. A case of mistaken identity — naturally — has the hapless studs crossing paths with heavily accented hitmen, an erotic initiation involving group sex and, for good measure, Francois Sagat.
Part of Sagat's appeal has been his stoicism and an air of mystery. But perhaps because he's on native ground, he's far more relaxed and charming than we've ever seen him. And he's got affable musclebod Johnny V with whom to engage in a vigorous flip-fuck. (They flip coins over who is going to fuck whom.) Both are about the same height and rippling with muscle with high-and-tight muscle bums. It's terrific sex; Sagat, especially appears to really appreciate Johnny V's highly vocal yelps and groans.
Elsewhere, Theo Ford is sleek, lean and model-handsome and throws a very intense fuck into furry Spanish otter Dani Robles. It's an aggressive, almost angry and high-energy fuck session and it's no wonder Robles delivers a spurting fountain of a cumshot. Meanwhile, Grey has an erotic grudge flip-fuck, of sorts, with bratty, babyfaced Gabriel Cross. Grey's fiery sexual mojo leads him to fully dominate Cross, whether he's on top or bottom. He's a real pleasure to watch.
The closing orgy sees the Americans sexually initiated by Ford, Robles and Denis Vega (who could be the twin of Robles). Although assplay and fucking is intense and aggressive, as in the rest of the film, cock worship in this scene is particularly slavish. Whether that surprise was what happened naturally among the men, or it was mr. Pam's direction, it really works in spades.
Pam's bright, crisp lensing includes plenty of local color, from streets bustling with tourists to the Eiffel Tower, and the editing, camera angles, scoring and other tech elements maintain the feel of a jaunty good time without tipping into camp. The script's twists-and-turns are whimsical, but Grey's charisma and Johnny V's innate charm carry it off.
Synopsis:
Innocent blue-eyed Colton Grey gets dumped by his dickhead porn star boyfriend Trenton Ducati, so he convinces his best friend Johnny V to leave San Francisco for a trip Gay Paree. The young Americans land with very little cash and even less command of the French language but a case of mistaken identity by Theo Ford leads them to a gorgeous penthouse and a series of misadventures involving two Spanish hit men, Dani Robles and Deni Vega, a grudge fuck with sexy Brit Gabriel Cross, and a steamy encounter with international superstar Francois Sagat. Debts are paid, everyone gets laid, and memories are made in Paris Perfect.