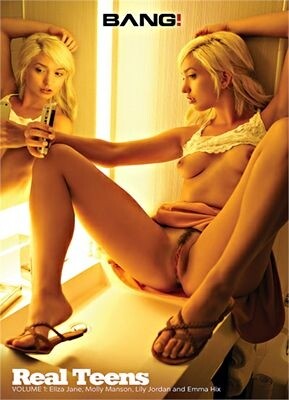 I generally approach POV movies with a great deal of skepticism. And why the hell not? The camera's typically shaky, the angles highly static, and the sex poorly captured. Not so, however, in the case of this brand-spanking new (there's some real spanking here, too!) volume of "Real Teens," with each of the four highlighted young ladies offering whackworthy action.
Molly Manson is the first cutie up, getting nasty with our POV guy/cameraman/stud, a phantom who, gotta give him credit, does rev the chicks up well, offering numerous angles — and horny ones! — while engaging in a little of the ol' sex-in-public danger routine at the start of each episode. Manson herself does some flashing in a shopping mall (within a slightly darker, more secluded resting section; but we do see mall goers walking in the background), before she and our cameraman/stud move to the beach (where there's some more skin flashing), then a hotel room. The highlight of this scene has our man with the cam slammin' Molly doggie style and wailing on her juicy behind with open-handed blows, making that choice butt redder than an alcoholic's nose. For the record, Molly loves it.
Emma Hix is a blonde waif who shows some cunt on the beach, while also giving our host a quick BJ and some cowgirl on the sand, before they (like all of the babes featured) go to a clean and comfy hotel to boisterously get it on. Hix also performs superbly during doggie, providing one of the movie's very best asses.
Next, Lily Jordan is an exotic-looking thing, who blows our boy in a car before they go indoors to get down 'n' dirty. Again, it's doggie which really rules here, though I was impressed with the gnarly blowjob which luscious Lily provides.
Lastly, we have Eliza Jane, whom I've definitely seen before and totally dig; here, she's initially sitting on a college campus bench, I think, showing off her twat, before the sizzling sex begins elsewhere/indoors. Actually, Eliza gives one nasty suckoff, going deeper, louder, sloppier than ever — all excellent BJ traits, by the way! Jane is, likewise, magnificently captured in the spoon position, a "Real Teens" stance we didn't see up until now.
If you like POV sex that's intimate, well-shot, and loaded with sweet, fresh, young female flesh, then "Real Teens" is your ticket to a fistful o' damn good wankin'.
Synopsis:
Four Teens just the way you like it naked and filled with cock! Eliza Jane - Petite blond has the tightest hole! Molly Manson - She wants daddy's special gift! Lily Jordan - Teen challenge: Toy vs. Dick! Emma Hix - Pounded in public & behind closed doors!
close
E-mail this to a friend
Real Teens
Email sent. If you wish to send to another person, click here.