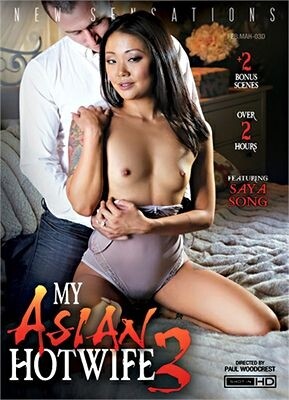 A hotwife is a chick who likes getting boinked by strangers — with her husband being just as turned on by the far-from-cuntventional X-perience. And here we have four far-out Asianettes — representing a broad, tasty ethnicity among equally tasty broads, from Korean to Japanese to Filipino to Chinese — sucking and fucking some stranger; with each and every scene being magnificently horny viewing (and spewing!)
And what better way to start off such an Asian-themed title than with South Korean-born uber whore Saya Song? Here, Saya plays a submissive slut whose hubby enjoys her getting porked — as does sexy Saya herself! — by none other than Mr. Wonderful, a.k.a. James Deen. Some highlights of the tattooed tart's torrid tunneling a la Deeno-dick include a deep suckin' of this succulent slattern's slit, a loud and filthy blowjob complete with lotsa stringers and some way-arousing ball worship, a great view of Saya's awesome body during reverse cowgirl (check out those pert tits and meaty thighs!), and equally amazing coverage of her perfect ass cheeks during spoon and doggie. You just can't lose with this choice Asian cooze.
Next, Logan Pierce signs a non-disclosure cunt-tract to fuck the scorching wife — in the form of tiny Japanese cutie Rina Ellis — of his boss, with intensely beatworthy results. Aside from an incredibly memorable blowjob, Rina has a killer bod (love those puffy pierced nipples and juicily round pooper!), looking all the better when riding rod during cowgirl or bending over and heartily taking it like a champ during an equally sweaty session o' doggie.
Tyler Nixon bangs his bud's submissive wife Katana, leading to some memorable pounding of this gorgeous, both wiry and curvy, delightfully exotic-looking sweetie of Spanish (as in her birthplace of Spain), Japanese and (yeow!) Chinese roots. Katana looks superb in all positions, with doggie and missionary definitely being highlights. I even adore her tight-looking, perfectly sculptured pussy. Umphh! Don't, by the way, miss Katana's chain of astoundingly wet and nasty deepthroating. I wanna see more of this XXX treasure!
Lastly, Lucas Frost takes on his friend's wife, Ember Snow, who doesn't expect Frost in their home, his unscheduled vice 'visit' becoming a pleasantly naughty surprise for the scrumptiously Filipino-flavored Ember. And what a taut-in-all-the-right-places figure Ember possesses! She particularly rocked my cock (and surely the lucky one attached to Lucas!) during cowgirl, reverse cowgirl (what a succulent lil' bod' on slutty Snow!) and doggie. Similarly, Ember provides some dreamy eye contact during many of her thoroughly groovy cock-suckin' moments.
Director Paul Woodcrest does a flawless job of capturing some of the very best up-and-cumming, fresh female Asian talent in today's jizz biz. Abso-fucking-lutely worth catching!
Synopsis:
Check out the crazy life of My Asian Hotwife! Saya Song, Ember Snow, Rina Ellis and Katana might be married, but they're baring their sweet Asian pussies for other men! Always aiming to please, these sexy Asian hotwives will stop at nothing to satisfy his, hers and your wildest sexual fantasies!