Vixen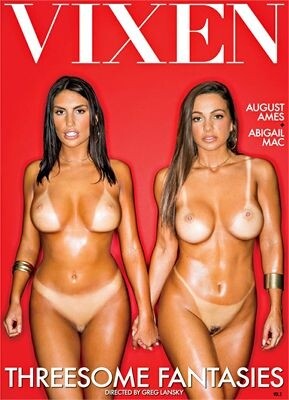 Whoa! Talk about a great movie! And how can you lose with such truly tantalizing talent as August Ames, Abigail Mac, Kylie Page, Elsa Jean, Jillian Janson — among eight (that's right, eight!) ultra-foxes — great direction from Greg Lansky, two babes in each scene, a ménage a trois in every scene, and all of it from an awesome company like Vixen.com?
In marvelously salacious story #1, Abigail Mac plays a whorish model (is that redundant?) who, in a previous Vixen.com episode, gets down with her photographer, Christian Clay, both of whom return here in the same roles (with Christian wagging the same roll), but now with added female flavor of head-turning August Ames (may she rest in peace), magnificently filling out the threesome, with Ames X-pertly playing a horny "fan" of Ms. Mac's. After some absolutely amazing cunt-to-cunt action, Mac and Ames are joined by Clay cock, with some particularly memorable moments including the Mac-Ames double-suck (look at how they simultaneously lick the sides of this prick's prick!); reverse cowgirl from Ames (her otherworldly tits beautifully spotlighted); and Mac and Ames licking anus during separately scorching sessions of cowgirl and doggie. Mama!
Next, incredibly cute blonde (one of my faves in the biz!) Kylie Page shares her sugar daddy, Manuel Ferrara, with the oddly accented, but thoroughly fuckworthy Natalia Starr, making for yet another volcanic episode in this super second volume of "Threesome Fantasies." Now, as much as I sincerely dig Natalia, I simply couldn't keep my eyes offa Kylie. Look at how this beauty tries her best to deepthroat Manny's massive member. She's also got a killer pair of (all-natural and big!) tits and (juicy!) ass, with Kylie effervescently whore-chestrating all of the energy in this apocalyptically hot slam session. Simply put, perfect Page is amazing in each and every fuck stance! — but I especially enjoyed seeing her luscious boobs bouncing and getting groped during reverse cowgirl, licking Starr sphincter when the latter gets dynamically doggied and showing off her awesome ass during her own delightful doggie session.
In story #3, Jillian Janson portrays a sorority slut who takes a new pledge under her wing — mouth-wateringly cute, lil', slinky blonde Elsa Jean — deciding to have this newbie help her seduce (as in fuck and suck) Euro geezer Mick Blue, playing (look out, big stretch of the imagination comin' here) a college history professor (!). Janson, of course, is a great trollop, helping Elsa truly bring out her own trampy qualities; with my favorite moments including watching Jean focus on deepthroating McDick; the cowgirl sessions — including female-to-female ass-licking sessions! — of both Elsa and Jill; Elsa's boner-bursting doggie drilling (what a mind-blowingly awesome booty on Elsa!); and Ms. Jean's all-around upbeat and randy (watch how ravenous she eats Janson's farts) attitude. Love ya, Elsa baby!
In cunt-clusion, Vicki Chase (in her early thirties and one of the most delicious, dirtiest cougars in XXX) shares her Spanish boyfriend, Chad Diamond, with another bawdy brunette, Sofi Ryan, ending our title on a strokeworthily nasty note! Both brunettes are fantastic to watch in action, especially as they simultaneously mouth-massage Diamond dick; when each produces oodles of saliva when separately face-fucked; and when each babe is bent over and getting her tasty twat gaped a la doggie by Chad cock-a-roo. Even without any anal sex, "Threesome Fantasies 2" is wildly fantastic, thanks to the fabulously foxy, fiercely frolicsome female talent and director Lansky's always outstanding direction, with Lansky skillfully capturing the volcanic decadence via all of the right camera moves and angles. And I, for one, am gonna definitely miss the always-welcome beauty, sexiness and vigor of the gorgeous August Ames. Such a sweetie.
Synopsis:
VIXEN.com, and director Greg Lansky, proudly present the second edition of Threesome Fantasies! Back by popular demand, this world-class series celebrates the art of threesomes featuring the most beautiful women on the planet. Watch in awe as cover girls and Vixen Angels, Abigail Mac and August Ames, have an unexpected threesome after a photo shoot. Also featuring heart stopping performances by Kylie Page, Natalia Starr, Sofi Ryan, Vicki Chase, Elsa Jean, and Jillian Janson. You can expect the unrivaled production value, memorable storylines, and luxurious locations that VIXEN.com is known for. Threesome Fantasies Vol. 2 is essential viewing for connoisseurs and new fans alike!