Mofos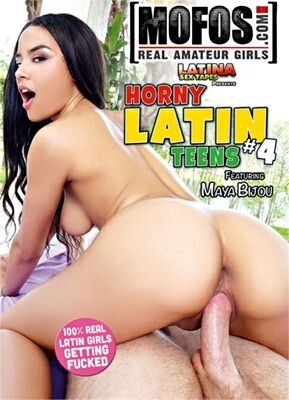 From Mofos.com, five Latina babes suck and fuck POV style, with the most memorable scenes being the heated lick-and-stick segments generated by Hispanic hotties Maya Bijou (she's not on the DVD boxcover for nuthin', amigos!) and Luna Star (one of smut's most delectable Latin lust bunnies), both of whom deliciously bookend this shot-from-the-hip gonzo.
The scrumptious Maya Bijou is first — and for good reason! This little firecracker starts off by skinny-dipping in an empty pool before sucking off some surfin' Joe, who's handling the camera fairly well (though, technically, things get a bit shaky at times). I envy the bastard for fucking such a sweet piece of ass like Maya, who is perfectly sculptured, with enough good cheer and positive vibes to make the scene a wanking winner. She's a terrific little cock-suckette, too, putting lotsa spit on spear, when the spirit moves her. Actually, there ain't a crummy position with Maya; though I especially dug how she shook that perfect ass during reverse cowgirl, which is one of the best things about such POV titles in that reverse is shot like cowgirl, with a definite focus on the girl's butt cakes, and Ms. Bijou has an absolutely awesome ass! That stated, doggie is just as rockin', fully solidifying the fact that Maya's one of those chiquitas for whom you'd give up everything. Love her!
Cameron Canela might not be as classically gorgeous as Maya, but she's still a sweetie whom, trust me, you wouldn't kick outta bed. A POV stud gets her right where he wants her, with our girl doing a great upside-down blowjob, being oh so energetic during cowgirl, displaying her choice cheeks during both reverse cowgirl and doggie, and showing off her taut little bod during missionary.
Mila Jade is a tasty lil' sweetie whom ranks at number three, (Maya coming in first, followed by Luna Star) amongst our five Latina hump honeys. I like mamacita Mila's all-around vigor and she is particularly note/stroke-worthy during cowgirl and, again, reverse cowgirl. Check out those rock-n-rollin' butt muffins! Additionally, I love the absolutely whorish manner in which she sticks her tongue out, waiting for warm cum to bathe her mouth, as well as how she giggles ever so naughtily afterwards. Yeowza!
Fun and bubbly Raven Redmond shows us how she uses a hula hoop and balloons before getting her sexy lil' self invaded by a veiny submarine upon a balcony, with somewhat horny results. This redhead knows how to shake her money-maker during reverse cowgirl, her fine ass cheeks wailing away. Dayum! I'm surprised the son of a bitch bangin' her didn't waste his wad right there and then. I also got a kick outta how she blows up a balloon, literally, whilst getting doggied. Raven's a riot! Nice boobies, too.
And we end on a high note, with one of porn's ultimate Hispanic ho's — the incredibly luscious Luna Star. I'm not crazy about porn scenes shot in the great outdoors, but Star is such a great whore when it comes to the ol' in-out that … hey, it works! Standing doggie is definitely a stand-out moment, with lil' Luna massaging her anus as if she's dyin' to get her crapper crammed fulla cock. Cowgirl shows off her ass-touding rear even further, with Star workin' it like a (yes) star. Ditto for reverse cowgirl. And her blowjobs? Mama! This suckin' slut's a bloody artiste! Move over, Picasso!
"Horny Latin Teens 4" is a solid gonzo, filled with enough frolicsome amour for couples, while loaded with fresh south-of-the-border meat that's been picked and specifically served for the discriminating tastes of yer more hardcore pervs.
Synopsis:
100% Real Latin Girls Getting Fucked. These Latin teens are horny! All they want to do is get naked and fuck someone! It's hot!
close
E-mail this to a friend
Horny Latin Teens 4
Email sent. If you wish to send to another person, click here.