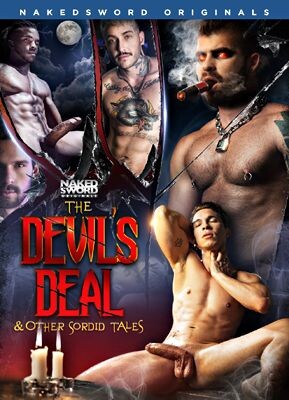 Four spooky vignettes featuring demons, lustful spirits, lovelorn ghosts and creepy thrills from NakedSword Originals and mr. Pam with a strong emphasis on sexual aggression and heavily inked studs. Youthful partyboi Gabriel Alanzo, adorable with a smooth go-go boy's physique, summons devilish demon Jonah Fontana — stoic, furred, with glowing red eyes, nipple rings and a furiously burning stogie — to make a deal to hold onto his winsome good looks forever (does that sort of arrangement ever end well?). What follows is a crisp exercise in domination and submission; Alanzo melts as Fontana preps his pink hole, stretching it out for a no-nonsense, no-frills fuck session. He hungrily jerks out a climax as he's being pounded. Dreamboat Casey Jacks waits anxiously for his lover, the mono-named Ruckus, to come home. Jacks ignore the usual spooky-movie trappings for specific reasons, namely Ruckus is a tall, lean drink of water covered with decorative body ink. And he drops to one knee with a marriage proposal. It's an appealing match of physical opposites as Jacks is un-inked with a smooth, lickably athletic build. The focus is on intimacy and connection as they trade blowjobs, fuck and maintain eye contact, even swap cum loads. In a poignant epilogue, their love story takes a ghostly turn. Beautiful, curly-haired stud Justin Brody dabbles in witchcraft in a cemetery and apparently manages to summon some sort of demon or apparition (transman Viktor Belmont) whose sexual aggression brings Brody's latent lust to a full boil. The sexual chemistry on display here is intense; Belmont's deep-throat oral skills are impressive and Brody fucks Belmont with single-minded intensity and delivers a whopper of a cumshot. Belmont, lean and heavily inked, clearly understands how to use his body for maximum effect and brings out the best in Brody. A daytripper — lean, rangy and handsome African-American Phoenix Fellington – accepts the chance, despite his misgivings, to go boating with wholesome, adorable blond Leo Luckett. The men succumb to erotic temptation in the bright sunshine, above decks, with the Bay Bridge and San Francisco skyline behind them. Fellington dines out on Luckett's creamy bubble butt and the latter pup rides him to climax, splattering his chest with cum. Unfortunately for Fellington, Luckett has been hiding his true intentions... Tech credits, including set design and off-kilter editing and camera angles, are strong and nicely evocative, with such grace notes as a sharp knife, for example, ominously dangling in the foreground during a bit of dialogue. Kudos to NakedSword and mr. Pam for casting a transman without a lot of fuss and bother (the last time a transman appeared onscreen in a gay porn flick was TitanMen's "Cirque Noir," featuring Buck Angel, all the way back in 2005).
Synopsis:
Have you ever come face to face with evil? A chill in the room makes your skin crawl and all you want to do is get away. But sometimes the face is so beautiful you get a very different feeling; a lust that makes your dick hard and all you want to do is surrender to the sins of the flesh. These four vignettes of chilling sexual encounters will do both. So grab your cock and hold on tight for haunting ghost fucks, shocking discoveries, and broken promises in The Devil's Deal & Other Sordid Tales.
close
E-mail this to a friend
The Devil's Deal & Other Sordid Tales
Email sent. If you wish to send to another person, click here.