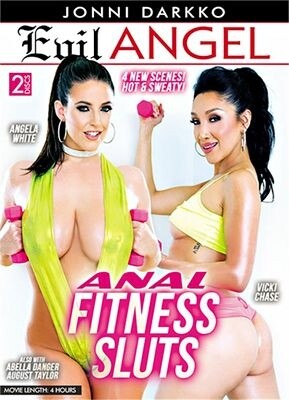 Over the span of two discs, you get a brace o' sluts per disc, and we're talkin' some of the best butt-fuck trollops in the jizz biz, with the marvelously filthy likes of (and, boy, do we like 'em!) Abella Danger, Angela White, Vicki Chase (who's absolutely smokin' in her slime scene) and August Taylor (a striking whore)!
After a lotta glam stuff, including her reaming her own rooter with a glass dildo, Abella Danger gets the real thing, as Xander Corvus wrecks her throat and bunghole. Abella, as per usual, gives a deep, messy and long (yah!) blowjob. Then, while she's giving the camera an impressive leg split, Abella gets her shit hit, as well as her slit split; Xander going back and forth 'tween cunt 'n' crapper. ATMs? You kiddin'? Abella adores the taste of her own steamy anus! I also dig how director Darkko films reverse-cowgirl anal as if it's doggie, shooting it from Xander's perv-spective. And, of course, you can never go wrong with doggie a la Danger when you've got that luscious, plentiful Abella booty bent over and taking it where the sun don't shine.
Hard not to notice that Australian, huge-boobed, big-bootied Angela White is getting more and more gluttonous (I love it!), demanding not one but two cocks in her slick scene with Russian invaders John Strong and Markus Dupree, ultimately delivering a bubbly double penetration. Check out how Angie jiggles her pillowy tits and juicy ass during her "workout" as a "fitness slut." Mesmerizing stuff. Even more impressive are her deep (to the bone!) blowjobs, with plenty o' naughty sounds and oodles of saliva. Our Russians go straight for the A doggie style, with Angela keeping her mouth busy; followed by some rousing doggie DPs, with both lads taking a crack at Angela's crack. Other highlights include pretzel anal, reverse-cowgirl double penetration, loads o' gapes, pretzel DPs, shameless ATMs, an interesting spoon DP (or a "sideways" doggie DP, if you will), fine double sucking, horny buttfuck trains and wild squirting (thankfully from Angie's cunt and not her ass).
Disc two begins with Vicki Chase, looking as fantastic as ever (especially in yummy workout clothes), with her ass cheeks getting all greased up, before Justin Hunt pooper pummels her; this salacious scene being the absolute best in the entire fucking (sucking!) movie. Vick gives an amazingly sloppy deepthroat of a BJ to start things off. Good girl. Justin then sticks it right up her ass doggie style. Lucky bastard. Some of the movie's best gapes ensue, with Vick always sincerely appreciating a down-n-dirty ATM. Reverse-cowgirl anal rocks, as do spoon and missionary. And Vicki eventually takes her blast in the face like a true tramp-champ! Love her!
We cunt-clude with the very exotic-looking, buxom, large-rumped, all around built-like-a-brick-shithouse August Taylor, who gets a heavy double-dick treatment from our returning foreign bodies, John Strong and Markus Dupree. No, we do not have a DP here. But the action is still delightfully filthy, with August really gagging on guy gristle, during which she ever so hornily makes plenty of eye contact (when she can, that is). I also enjoy how she doesn't mind kissing both of these bozos. Great gal! And aside from possessing a killer ass, Taylor never allows her mouth to go idle when she's getting her dunghole deliriously doggied. August has a sleepily arousing manner of doing her sex scenes, which is a total turn-on. Love the huge head-givin' lips, too. Sure, Taylor has had some cosmetic help; but it, actually, works for her, simply lumping on more whorishness to her already impressive dirtiness as a marvelously vain, intensely vice-ridden porn fuck-bot. Honestly, though, I don't know why she just didn't do a straightforward DP here, as she's so wonderfully close to it at certain points. Oh well, next slime, er, time, er, slime-time!
There ain't a bad anal scene in the Fitness-Slut house, with high marks going to all four fab 'n' furiously dirty ladies — and (can you believe?!) even higher points going to super tramp Vicki Chase and up-and-coming slut-a-roo August Taylor. These whores soar!
Synopsis:
Director Jonni Darkko loves glamorous models. His Anal Fitness Sluts maintain their healthy life balance with a sensible diet, exercise and regular sessions of vigorous butt sex! Packed into tight spandex workout gear, these foxy bitches orally service stud cocks. The men work them out with asshole poundings, and the girls cool down in showers of cum. Sleek, sassy Abella Danger stretches her tight sphincter with a big glass dildo. Handsome Xander Corvus fucks her butthole and then her face, ass-to-mouth. All-natural, big-boob queen Angela White s personal trainers John Strong and Markus Dupree. Her rectum overflows with throbbing dick and slick lube; the coaches double penetrate her sloppy holes and make her squirt in orgasm! Justin Hunt plows athletic Latina sex kitten Vicki Chase's tight anus until it gapes, and his sperm splatters her lovely face. Two coaches treat mega-stacked Latina bimbo August Taylor to a relentless, tag-team ass pounding and a hot facial.