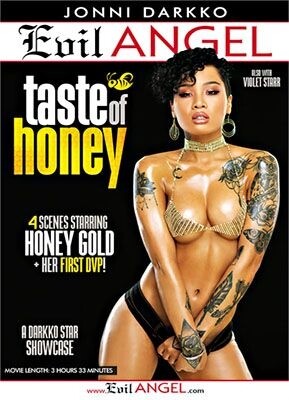 Honey Gold is sweet. And like lemonade on a hot summer day, this Jonni Darkko-directed showcase quenches your thirst! The 2018 XBIZ Best New Starlet nominee proves that she's a top contender for the coveted title in this extraordinary Evil Angel DVD. From her first-ever DPV to a sizzling girl/girl scene with fellow 2018 XBIZ Best New Starlet nominee Violet Starr, this one will fly off the shelves.
Before we get to the P-in-V action, Jonni offers up some seriously sexy glam shots of Honey in a neon green garter/stocking combo. She rocks the teeny-tiny outfit, looking gorgeous as ever bent over a white coach, pussy exposed.
Justin Hunt is up first, getting a taste of Honey's deepthroating skills. Without hesitation, Honey drops to her knees and services his big schlong. Wearing cute anchor patterned boxers, Honey feels Justin up through the fabric. She kisses his clothed dick, eventually freeing his hard dick. Thick strands of saliva dribble down her cheek, and he face fucks her furiously. Honey tends to his balls so graciously, and Justin lets it be known how much he likes it. He groans and moans, pushing Honey's head deeper on his dick.
Justin isn't shy in dominating Honey. He throws her leg over her shoulder, and fucks her from behind in a standing-up position. Honey is all smiles while she takes Justin's beer can thick dick all the way down to the nutsack. "Oh my god, you're so fucking good!" Honey yells, her eyes rolling in the back of her head. To end the scene, Honey rides the dick reverse cowgirl style, giving the camera a perfect view of her pretty pussy. Then, he finishes directly in her mouth. (Yum!)
Up next, Jonni himself gets a killer blowjob from Honey. Filmed in POV style, this scene features the addition of an extra large double-sided black dildo and Honey in black lingerie. Jonni lays back on the bed, and Honey goes right to town. She even tongues around his asshole a little bit, and sucks his fingers!
"Do you want me to stroke your dick until you cum?" Honey says, worshipping Jonni's cock with deft fingers. "Oh yeah," he moans in response. "It's so big! You're so big!" Honey's bright smile is infectious, she ogles his dick with the utmost appreciation, then takes the full length of him in her mouth. Saliva practically oozes out of her mouth, and drips right onto his dick. Though Honey doesn't use much of the black dildo, there are a few shots of her deepthroating it and Jonni's dick at the same time. To wrap it up, Jonni splats all over her face, knocking one of Honey's fake eyelashes right off!
Next is the highly-anticipated DVP. Joining Honey for the threesome of a lifetime is Markus Dupree and, again, Justin Hunt. The scene starts with Honey and Markus making out on the couch. "My boyfriend's gone and he won't be back for awhile!" Markus just smiles in response, dick out and already hard. Things move fast between them — they have to, since her boyfriend might show up! Markus face fucks Honey until she chokes. Markus is rough, but Honey appreciates it and meets him with equal fervor.
Eventually, Justin Hunt joins in and it's double the fun. They each take turns turning her out, one fucking her in doggy position while the other gets a blowjob. It doesn't take long for the DVP to take place. Justin lies underneath her, and Markus gets the top. They work seamlessly together, plowing into Honey so hard her eyes are closed the entire time. She squales in ecstasy, and even squirts a little! To round it out, both men cum inside her and on her face — it's really a sight to see!
Last, but certainly not least, newcomer Violet Starr fucks Honey Gold with the same black dildo from her rendezvous with Jonni. Both girls, tan and beautiful, look amazing devouring each other. Violet is a champion pussy eater, as exhibited by Honey's mewls of pleasure. Her eyes roll to the back of her head, and she demands more and more and more from Violet.
To please Violet, Honey bends her over and sticks the double-sided dildo right into her wet pussy, while using a vibrator on her clit. Honey sticks the other end of the dildo in her mouth, and deepthroats it … all while still shoving it deep into Violet. The girls eventually start to scissor, carefully placing the vibrator in between them. Once they've both cum, Jonni pulls out his dick and gets a nice, sloppy blowjob from both girls at once. (Lucky, lucky dude!) He cums in Honey's mouth and they swap spit.
Honey Gold has it, folks. She's got the charm, the looks, the body and a love for fucking that is palpable in every scene. Keep your eye out on this honey bee, for reals.
Synopsis:
Director Jonni Darkko loves to showcase the erotic talents of special starlets in epic, dedicated movies. No recent porn debutante is more deserving than mixed-race, tattooed beauty Honey Gold. Taste Of Honey exposes the young vixen's sweet charms via Jonni's signature mix of impeccable, high-end glamour and hardcore filth. In lingerie and sheer, seamed stockings, Honey services Justin Hunt with a sloppy, gagging blowjob. He pounds her pussy and splatters Honey's gorgeous face with sperm. Honey blows the director, slurps his balls and rims his asshole till Jonni's cum and her own slobber ruin her makeup. Glam, caramel-skinned Honey smokes a cigarette with a French inhale. Justin and another white stud, Markus Dupree, fuck her throat and ream her in spit-roast fashion. A double vaginal penetration makes Honey squirt in ecstasy. Raven-haired cutie Violet Starr and Honey share passionate lesbian love, getting off on a black double dong and a massager. The ladies give Jonni a dual suck job and orally swap his sperm.