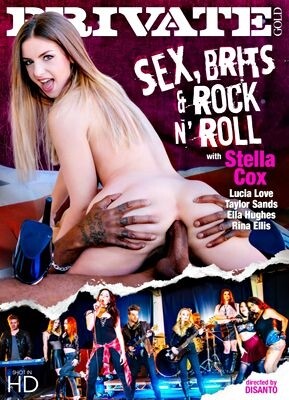 Lotsa good, hard-hitting sex, with a bit of storyline fleshing out this Private feature. And all of the British whores in this title (including Dutch firebrand Taylor Sands) perform with flying colors, particularly anal sluts Lucia Love (the true star of the movie; deservedly so, as she's just so volcanically fuckable) and (the always welcome) Stella Cox.
While the movie revolves around some very decadent boys and girls in the British rock scene tapping into the "good old days" and, basically, rekindling some sopping-wet feelings, be it in a woman's mouth, vagina or shithole, our story cunt-cerns the cum-back of (on-screen) rock star Samantha Bentley (who, actually, is a porn star, but here presented in a, go figure, non-sex role).
Lucia Love plays a manager who's told by an almost gangster-like A&R guy, Marc Rose (offering the movie a smidgen of suspense), to represent Bentley and help the latter make a phoenix-like reemergence on the rock scene; but not before raunchy Rose delves into (some of those "good old days" in the form of) Lucia's choice tonsils, twat and turd bin. Lucia is the quintessential porn star: gorgeous face, killer body and nasty appetite, and Marc slams the (literally) shit outta her, with every position being terrific, especially when he creampies her crapper doggie style. I also dig how Looch doesn't shy away from tasting the shit outta her own sweet poop pit. Awesome!
While not as apocalyptic as this opener, other episodes, nonetheless, do rock in this tasty title. Taylor Sands, for one (and her slightly hairy pussy), provides a spirited romp with Freddie Flavas.
Ella Hughes, looking fantastic, provides an even more animated roll in the hay (even though it's on a sofa) with the hairy Luke Hotrod. And I'm glad that Lucia pops up again at the movie's cunt-clusion, making a sizzling ménage a trois with pint-sized British-Korean tramp Rina Ellis and Scottish bagpiper Ryan Ryder.
Next to Lucia Love's initial sphincter-slaughtering, however, the best scene is definitely the interracial buttfuck tryst 'tween Stella Cox and Sensi. As usual, Cox is a pleasure to view, in all of her big-boobed lusciousness, here taking on Sensi's raging black hard-on in her cunt and anus (not simultaneously, though, as Sensi's boner isn't that humongous). Always offering highly horny positions, Stella is definitely one of the dirtiest Brits out there today. Next to, that is, the amazing Lucia Love.
This Private title is well shot and with enough storyline (though, again, there's little mandatory tension) to make couples happy; yet it's also got enough nastiness to please hardcore fans, especially thanks to the vibrantly lewd acts of Stella Cox and (one of my new foreign favorites, the fantastic) Lucia Love.
Synopsis:
In our new Super Production, directed by Porn's man of the moment, Disanto, busty music producer Zara (Lucia Love) puts her talents to the test to help boost her friend's career. In Sex, Brits and Rock n' Roll, gorgeous Sex Pistols, Stella Cox, Ella Hugues, Rina Ellis and Taylor Sands will do anything for fame, whether it is sucking, fucking or darn right rocking out on a big fat cock! With some impressive anal adventures and some intense Trios that make free love at Woodstock look like church on a Sunday, these sluts fuck their way into the Rock n' Roll hall of fame... and they are all covered in cum!