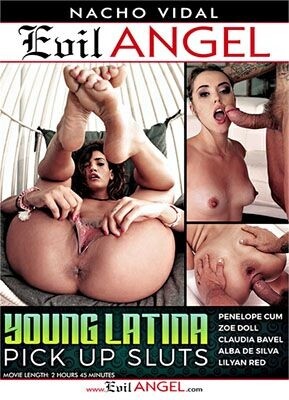 Euro babes, all from Spain, get 'picked up' on the streets of España by Latin willie-wagger Nacho Vidal, with each girl being unique in her own lusty way, but highest points, indeed, going to curvy brunettes Alba de Silva and Claudia Bevel, whose scintillating scenes bookend this gonzo.
And that's not to say that the three other Spanish maidens aren't worth writing home about — and/or seriously wanking to. Zoe Doll, 23, is perhaps the most classically beautiful of the lot. She's a sweetheart with whom you don't get a bad position, though I wish Nacho were a bit more passionate or rough, if you will, with her. Lilyan Red (the oldest tart of the lot, at a whopping 26 years), is a bit nerdy looking with her tats and spectacles, but she evolves into a much prettier little thing as her vice a la Vidal is gets fully underway. I particularly like how she ever so doo-tifully spends so much time worshiping Nacho's undoubtedly stinky shithole with her curious tongue. And 21-year-old Penelope Cum (love the subtle name) is cute in her own big-eyed, big-lipped right, giving the movie's very best (as in deep, loud, fluid-drenched) blowjob, while she, like Lilyan, also spends a good deal of time eating Nacho's gnarly farts. Marvelously dirty tramp.
But let's get to the two very best sluts of this gonzo: namely, 23-year-old Alba de Silva and 21-year-old Claudia Bevel. The movie, in fact, begins with Notch picking up Alba off the street, taking her to his (for Nacho) tasteful, voluminous, if somewhat furniture-barren apartment, and slamming the hell outta her. Alba, like the upcoming Claudia, has an amazingly round and luscious figure, with a pair of perfect Evil Angel butt cheeks meant to be bent over and jiggled during animated intercourse, especially in the doggie and (especially in the case of Alba!) cowgirl positions.
Claudia is even more erotic and desirable in my perverted estimation! This big-boobed, all-natural gem is the most upbeat, smiley and fun-loving of all the girls, really getting into Nacho simply kissing her, while she (again, like Alba) truly X-cels, with her own abundant and cushiony butt cheeks, during doggie and cowgirl. She's also the only girl upon whom Nacho erupts his load sans hand (or handjob), with Vidal almost un-cunt-trollably shooting his wad during the spoon position; Claudia sincerely beaming that she seriously, successfully got the ol' veteran swordsman off, big league.
Nacho proves in this title (the start of a new series I hope!) that he's far from over the hill and still has a terrific eye for picking tasty talent, especially ultra-juicy Spanish specimens Alba de Silva and (a new Euro fave of yours truly!) Claudia Bevel.
Synopsis:
Macho, massively hung Nacho Vidal brings us five intense, one-on-one encounters with Spain's most beautiful tramps. Young Latina Pick Up Sluts spotlights impossibly gorgeous girls the porn legend lures off of the streets with the promise of his giant, tireless prick! Alba De Silva exposes her big boobs in public. Indoors, she strokes his dick with her pretty bare feet, rides the meat until he cums, and spreads his jism on her tits. Zoe Doll visits Nacho's photo studio. Riding the elevator, the all-natural beauty sucks Nacho's imposing cock. He pounds her pussy fiercely. Skinny, tattooed alt-nerd Lilyan Red worships Nacho's boner and goes down further to lick the older man's asshole. On the road, Nacho pulls over to chat with adorable Penelope Cum. She can't resist blowing him right in the front seat! Later, his thick prick ravages the slender sweetheart's pussy. Nacho s naturally busty stunner Claudia Bavel; she can't resist a front seat blowjob. The stud bangs Claudia doggie-style and cums on her belly.