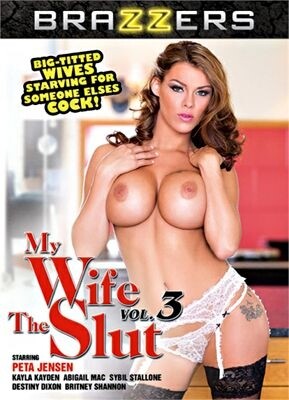 Uncredited males — in scenes without credited directors — fuck whorish housewives who can't keep their tits and clits in their dresses, with extra high points going to DVD cover babe Peta Jensen and marvelously slutty German-Italian tart Destiny Dixon.
While both Kayla Kayden (humped here by Kieron Moore) and Abigail Mac (slammed via sausage a la Johnny Sins) put in arousing performances as women fed up with their dufus husbands and, in turn, craving some hard stick right fucking now, I thought the episode with big-augmented-boob/meaty-assed Sybil Stallone was stand-out in its Kafkaesque storyline. That is, Sybil's on-screen husband is baffled as to why two guys, strange document in hand, come to their front door and, very icily and officiously, insist that they still have Stallone under cunt-tract, at which point Kieron Moore proceeds to bang the initially resistant but quickly compliant Stallone in her bedroom, while her befuddled and appalled hubby is dragged away angrily screaming.
Stallone, though seeming a bit robotic (which, actually, fits in with her submissive character) offers a fine BJ, while she's particularly grand to view in the cowgirl position.
But the best two scenes star Mademoiselles Jensen and Dixon. Actually, for the raunch record, I think that Peta Jensen looks a lot like Fox News cuntributor (and quite the fox herself!) Lisa Boothe. Check it out when you get a chance. Anyway, Peta gets down in her slime sequence with the banger attached to a British neighbor, as he gets a good suckoff from Peta and penetrates her pussy in two positions — missionary and reverse-cowgirl — which are pretty damn scorching with this tastily titted, awesomely assed vixen.
But my favorite scene in the (w)hole movie features 33-year-old, shamelessly insatiable cougar Destiny Dixon, paired with some lucky schmoe named Sean Lawless. What's incredible about Dixon is that she's just so into the carnal menu, whether it be mouth-massaging man-meat with her gob or inhaling veiny vine with her twat tunnel. The woman exudes ultra sluttiness, totally living up to this porn-manteau's title. Destiny offers plenty of eye contact, too, with not one of her many positions being a dud. And look how devilishly she laughs when Sean-sauce is blasted onto her face and tits. Love this bitch!
"My Wife the Slut 3" is worth checking out for all five featured girls, especially Peta and Destiny. By the way, don't miss the extra scene thrown in for good measure/wanking pleasure, i.e., a volcanic double-penetration as blonde hussy Britney Shannon simultane(ass)ly takes it up the snapper 'n' crapper (in doggie and reverse-cowgirl positions) from Tommy Gunn and Ramon Nomar. Sizzling shit, brothers 'n' sisters!
Synopsis:
The Unforgettable Anniversary A horny wife, Kayla Kayden, has a nice surprise for her husband when he returns home from work, to celebrate their wedding anniversary. Only problem is that her foolish husband forgot it was their anniversary! Kayla decides to make her husband pay by whore herself out on the street, where she'll fuck anything that picks her up.
When Wives Get Lonely Blessed with a great ass, tight pussy, gorgeous face, and a rack that just won't quit, Peta Jensen is the definition of "marriage material". Peta has an appetite for dick that borders on criminal, but luckily for her Marc Rose is around to give her the famed English stiff upper dick. Cheerio!
A Domestic Dicking When officer Johnny Sins shows up to investigate a domestic disturbance call he finds Abigail Mac and her spouse caught up in a heated argument. As it is his sworn duty to protect and serve, Officer Sins cuffs the husband and fills Abigail's mouth and pussy with his throbbing cop cock.
A History Of Whoring For one husband, however, he's about to discover that his sexy and busty wife, Sybil Stallone, is actually a professional hooker! When her eager client Kieran Lee arrives looking to fuck her, Sybil's contractually obligated to pleasure the sleaze even if it means cuckolding her husband!
Her Turn To Cheat Destiny's ready to settle the score with her cheating husband. So now he has agreed to watch her suck a stranger's cock! But once Destiny gets blowing she can't help but want the big dick in her pussy too. Her husband screams foul, but Destiny couldn't care less about what's "fair", she just wants to get fucked!