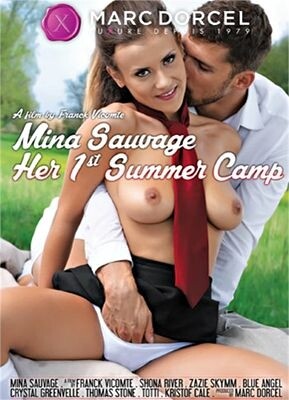 Five choice Euro babes get seriously screwed and hellaciously spewed upon in this arousing Marc Dorcel production with a spotlight on French beauty Mina Sauvage.
We start with a sizzling threesome between Sauvage, redheaded Hungarian honey Shona River and some Czech cock named Kristof Cale; with the scene beautifully shot — somewhere in Europe — in the great outdoors. Don't worry about any dialogue being dubbed or incomprehensible (a problem sometimes with Euro pud-uctions), as there's very little speech in this title. Very little plot, too. But plenty of rockin' suckin' and fuckin'. Gorgeous Mina gives a terrific blowjob, as does the sexy Shona (that lucky bastard Kristof must've been in some kinda heaven when this scene was shot!). The three, soon enough, begin rollin' around on a blanket, with Mina getting royally slammed spoon style (such a magnificent pair of butt cheeks!), followed by reverse-cowgirl a la Mina and then Shona, the girls at one point sucking the cock, doggie in Shona sphincter, another double BJ, leading to a bit o' cum-sharing 'tween our lovely lassies.
Next, after a little volleyball with her summer camp cuties, Russian tart Crystal Greenvelle gets down 'n' dirty (again in the outdoors) with some Hungarian hose wagger named Renato. Brunette Crystal is yet another girl with a delectable bod, really shining during doggie and spoon, the latter posish also including some deep anal, followed by reverse-cowgirl anal and a brief round o' doggie anal.
Renato soon returns, this time animatedly screwing Hungarian hottie Blue Angel in a cozy (believe it or not) bedroom. Angel gives a fine BJ, but she really excels in the banging department, her exquisitely wiry body allowing for maximum penetration during missionary, spoon and reverse cowgirl. Doggie (tsk, tsk) is criminally missing here; though I like how Angel jerks and sucks Renato off to climax.
Blonde Hungarian beauty Zazie Skymm (what a name!) next gets it on in a female-dorm bathroom with cunt-tryman Totti (another crazy fuckin' nom de smut!); our Eastern-Euro babe giving a marvelously slutty performance. I like how Zazie sucks cock long and luxuriously. Deep at times, too, though occasionally using too much of her wrist. Totti first penetrates her pussy spoon style while standing, then doggie (including a nice low shot of the action), followed by reverse cowgirl. Just like Angel's slim figure, I adore Zazie's equally svelte bod!
Lastly, we get a scorching DP from star Mina, perpetrated by pervs Kristof and a stud named Thomas Stone (yet another Hungarian). This scene is (again) wonderfully shot in the outdoors, with highlights being Kristof's anal-yzing of Mina doggie style, while she simultaneously sucks Stone's bone; the lads reversing positions; then there's a rowdy doggie DP (some nice tit-swinging action from Mina) and a reverse-cowgirl DP, as(s) well; followed by a double BJ and Mina getting plenty o' custard splattered upon her model's face. I dig how Mina gives her lusty lovers plenty of eye contact, too. Such a great whore.
While this Mina Sauvage title is more of a hybrid gonzo than a straight-out feature, it includes one awesome Euro babe after another, all of whom work hard for their money; while Mina is such a tasty slut, the entire movie could have easily — and suck-cessfully — included this truly fine uber whore in each and every scene. "Her 1st Summer Camp is," indeed, palatable for couples as well as hardcore spewers/viewers.
Synopsis:
School is finally over ! For Mina, Angel, Crystal and Shona, it's time to go to their very first holiday camp. Supervised by true professionals, the five friends will have a very busy schedule. Although each morning will be dedicated to homeworks so that they don't forget what they learnt at school, afternoons will be dedicated to leasure, reading, sports and water activities. The relaxing atmosphere will help these pretty students to get closer to their supervisors and all the studs they'll come across. These mn will have a lot of trouble resiting to the girls' enthusiasm. There's no doubt that the five friends will keep hot memories of their first summer camp.