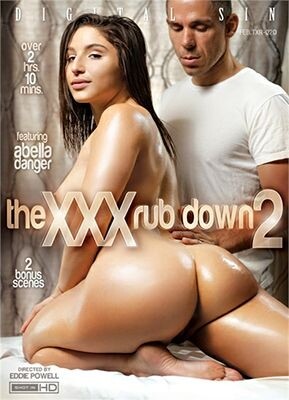 Four luscious ladies get oiled up, rubbed down and humped silly by different "masseurs," in the form of the usual suspects bearing low-hangin' cockmeat. And while two ladies possess off-kilter good looks (namely, Abella Danger and Ashley Adams), two are in the more classically sexy category (Karlee Grey and Giselle Palmer); but with all of 'em putting in X-traordinarily beatworthy performances.
First up, Abella Danger gets the deep rub treatment from Mick Blue with heated results. Abella, of course, has one of the cushiest (a definite compliment!) bods in porn, looking even hornier when it's all greased up. After he gets Danger all wet with oil, Mick starts pluggin' her mish, before getting a killer BJ (deep and nasty), after which he hammers her doggie (always a fanny-tastic position with Abella!), reverse-cowgirl (cleverly shot as doggie), cowgirl (which is my own favorite position here, superbly showing off Abella's juicy butt cheeks), spoon and the money shot.
Scrumptious Karlee Grey puts in the next dick-hardening spermformance, getting her rub 'n' plug from Lucas Frost. Not only do I love Karlee's meaty ass and big natural breasts, but I dig her bush, as well, which Luke gets all mushy with oil, before clamping his ravenous mouth over that wet honey hole. It's awesome how Karlee's tits jiggle during pussy penetration, while her deepthroat talents are cum-pletely impressive. Cowgirl is probably (once again for me) the most memorable position (with Karlee's marvelous ass cheeks floppin' all over the place), while more terrif BJs follow, as well as fun X-cursions in reverse-cowgirl (additional tit-gyrating action), doggie and missionary. Love this bitch.
Blonde babe Giselle Palmer and big-titted Ashley Adams rock, as well. Palmer has boobies that are not huge but large enough for some tasty entertainment, which Xander Corvus most definitely experiences in his smokin' scene with her. Palmer gives a saliva-drenched suckoff, while she really shines (in more ways than one!) during her rubdown in the missionary position, her far-out tits shaking like mad amidst her groans of slutty passion, while reverse-cowgirl (shot like doggie) and cowgirl booty-fully highlights her jelloey butt cakes.
Ashley Adams is even rounder in all of the right places, her big all-natch breasts being a pair of the best (I think) in the biz, and her choice cheeks always giving us a truly arousing ride, in this case with James Deen. After Ash delivers a gnarly blowjob, we get some tit-fucking, more cocksucking, cowgirl, spoon, missionary, a lil' squirting and doggie, before Deeno sprays her face fulla Jimbo juice.
This slick series from director Eddie Powell (and the good pervs at Digital Sin) might not be totally original but it totally kicks ass, cleverly taking advantage of the scrumptious bodies of yer more lush-figured young vixens in the jizz biz.
Synopsis:
Get ready for the ultimate sexual massages with Abella Danger, Ashley Adams, Giselle Palmer and Karlee Grey in The XXX Rub Down 2! Beautifully exposed, these hotties are ready and waiting to take a deep tissue massage to orgasmic heights you never dreamed possible!