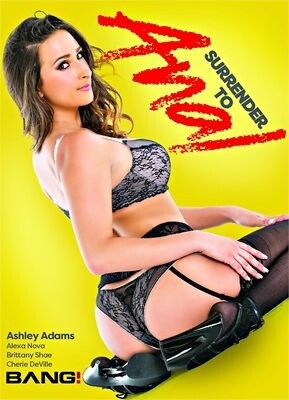 The cocks of Manuel Ferrara and James Deen each fuck two babes up the crapper (and get sucked by them), with not a bad scene amongst our four whores, including superior MILF Cherie DeVille.
Big-chested Ashley Adams first gets her mouth, cunt and rectum wrecked by Ferrara. While Adams might not be a classical beauty, she's sexy as fuck, with a truly killer bod. And when Manny face-fucks her, it's a definite gonzo high point. Standing doggie is pretty good, too. He eventually ass-pumps her missionary style, followed by doggie, which is way awesome, with Ash tasting her ass in a smooth-transitioning ATM, before her bunghole is further burglarized in the spoon then reverse-cowgirl positions, with one of the best being cowgirl anal and then an even-better-than-before doggie-anal session, complete with an ass creampie. Nasty!
Next, perhaps the prettiest babe of the lot, Brittany Shae gets down and dirty with James Deen, including her juiciest of juicy butts getting seriously cornholed. Deen delivers rough sex with a little slapping here, a little spanking there to get his rocks off, with Brit being a suppliant wench, who looks incredible. She's a grand deepthroater, and it's a vision watching her bend over and take it way up her cunt and craphole — several times! The bitch loves it! Check out, too, how her tight little asshole tries it's best to gape during doggie, while her blowjobs are filled with spilling saliva. She hardly shies away from ATMs, either. Another fave position is spoon anal, with Brit's butt being bootifully spotlighted, indeed. Umphhh!
Manuel comes back again (sporting a new haircut) and gets to throat-, cunt- and ass-fuck amazing 2017 XBIZ MILF Performer of the Year Cherie DeVille. Actually, Manny's meat spends little time in DeVille's mouth and muff before he doggie-splits her shit. DeVille is definitely the most energetic of our four fuck fiends. And, yes, she's a magnificent cocksucker, going long, deep, loud and filthy. She even eats Manuel's farts. One of the best anal positions is cowgirl, with DeVille's succulent cheeks flowing all over the place. Doggie is rockin', as well, as DeVille visibly loves the taste of her crap as she passionately engages in one ATM after another. And it's great seeing her doo-doo doggie anal several times. Such an all-around grand whore, that DeVille!
Lastly, James Deen puts cute lil' Alexa Nova through the rough-anal-sex paces — it's sizzling stuff, for sure. After a lengthy interview, Alexa finally hooks up with Deeno, who cock-strikes her mouth, slaps her face, bangs her cunt, ties her arms up with her top, smacks her twat silly, presses her face against the sofa while missionary-cunt hammering her before mish-analyzing her, slaps her face a bit more, pulls her hair, gags her mouth with his hand, smacks her tits repeatedly, jams her undies up her cunt, doggie-anal pumps her, makes her lick her shit offa his soiled sword, as well as suck on her sopping undies, ass-humps her in the choice spoon position, doggie cornholes her (for a good long time!) with a few fine gapes, and eventually spurts off into her (believe it or not) still-pretty face. What a workout!
Potent mouth and shithole stuffings are on the program in this powerful gonzo, with thumbs going up (way up!) to all four fudge-factory-crazed sluts. Worth catching.
Synopsis:
Four of adult's raunchiest stars bend over and take the biggest cocks into their tight assholes in hardcore XXX sex!