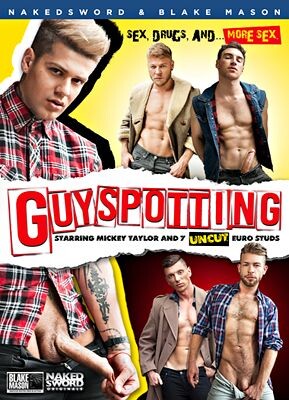 This well-constructed erotic exploration of Manchester's gay counter-culture takes clear inspiration from the drug-fueled antics of "Trainspotting" (and its recent sequel). It was shot on location with a British cast and was co-directed, scripted and had its theme song penned by leading man Mickey Taylor with mr. Pam, the reigning XBIZ Gay Director of the Year, whose customary street-level lensing adds an authentic flavor.
The mononamed Leander is a well-built, scruffy ginger with a bright, open-faced demeanor. Scene-mate Jack Taylor is more puppyish and slyly attractive and they combine for a combustible, highly energetic flip-fuck on and around the kitchen in their flat. It's the best sex of the bunch (although Mickey Taylor puts up a good fight).
Lean, thickly hung Kayden Grey is a still-waters-run-deep type and meets an ideal sexual match in Koby Lewis (dubbed "Bottom Bitch"). While Lewis crams a fair amount of Grey's cock into his mouth — aggressive oral is always a pleasure to behold — he more than makes up for it elsewhere as Grey twists him into acrobatic positions and unleashes a slowly building piston-fuck that is quite delectable. He ends their aggressive fuck session by dumping a load onto Lewis' features.
Leading man Taylor, lean and heavily inked with a cutely dimpled chin, appears in a sizzler of a duo with Gabriel Phoenix and later anchors a fourgy with Phoenix, Matthew Anders and Billy Rock.
He and Phoenix (lean, scruffy) share a potent chemistry that feels genuine. They kiss and flirt and trade blowjobs, with attention paid to assplay. As it does throughout the film, the action moves along quickly. Mickey Taylor is fully engaged throughout and lends the action an appealing intensity. He (and Phoenix) tend to draw one's attention even when there are four guys crammed onto a sofa pleasurably sucking and fucking each other. Fans of inked skaterboi pups, British accents, a punkish aesthetic and uncut cocks will be happily satiated.
Synopsis:
Jack Taylor & Leander Two is company, three's a crowd. That's how horned up boyfriends Jack Taylor and Leander feel about Mickey Taylor. They love him but it's hard to find time to fuck when he's hanging around their flat. Leander doesn't want to go out anyway, all he wants is Jack's huge uncut cock up his ass. He bends over and Jack fucks him on the kitchen counter then Leander leans back and Jack hops on his thick dick for a ride. Kayden Gray & Koby Lewis If Grindr was a kingdom Kayden Gray would be King. The cock-hungry Koby knows his place and submits to Kayden's rigorous face-fucking and ass pounding. As they lay panting covered in sweat foolishly asks Kayden if they can see each other again. Kayden dismisses him with a sneer and tells Koby he's nothing more than fuck toy."Arsehole!" Koby yells as prepares to leave but Kayden is already back on his phone searching for his next conquest. Mickey Taylor & Gabriel Phoenix Kayden Gray finally picks up his phone and Mickey Taylor is in a mood. As soon as they hit the pub Kayden yells SHOTS! and it's the train goes off the tracks fast. Before you know it all three of them are Fuck'd up. Gabriel's defined; hairy body and trimmed beard are perfect. They suck and fuck in a private room upstairs at the bar. Mickey Taylor, Matthew Anders, Billy Rock, & Gabriel Phoenix Mickey Taylor and Gabriel Phoenix are high on. Before you know it everyone is naked and on the grind. Mickey is on his knees sucking all three cocks then has his cock up Billy's ass. Matthew Anders and Billy Rock take turns fucking. At one point all four guys are lying in a giant fuck pile and loads are swallowed. scenes