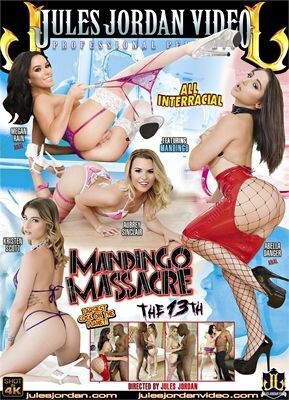 The big guy — or should I say, the big guy's big black cock? —takes on four white babes, with two of 'em (vice veterans whose names aren't hard to guess) whorishly takin' it up the fudge highway, while the other two chickies are tasty newbies, indeed.
Actually, you can never go wrong with our first two porn starlets, the aforementioned anal princesses — namely, Megan Rain and Abella Danger — giving Mandingo one helluva ride with their mouths, cunts and anuses, while giving director Jules Jordan a damn good run for his money. The amazing Megan, one of my all-time faves, is up first, starting off by giving our man Manny one incredible blowjob, really trying to stuff all of that one-eyed ebony beast into her tiny tramp's mouth. And it's not long at all (we're talking time, not size) before Manny rams it up Rain's rectum during standing doggie. This girl, by the way, just gets prettier and prettier. And nastier and nastier! Missionary anal a la Megan is sizzling, along with the ATM that goes with it; ditto for reverse-cowgirl anal, with Manny blowin' his bro' load after a brief bit o' cowgirl (wish it were longer; again, I'm talking time, not size). Great slut!
Our next member of rectum royalty, Abella Danger, really burns down the house with Mr. Massive. I love the black fishnet stockings Abella wears, which extend to — and augment the lusciousness of — her fine fanny. She really chokes on Manny's gristle, before taking it doggie style vaginally, the stocking soon being ripped as(s)ide, with doggie anal following close behind in Abella's behind. Impressively, Danger does ATMs where she goes all the way to the base of that beast of a bone. Wow. More doggie anal follows, a(s)s doo-doo more ATM; some vaginal and cowgirl anal (which totally rock!); then reverse-cowgirl anal, spoon anal, more ATMin', some mish; all cuntcluding with a big gulp o' goo upon Danger's happy face. Choice whore.
Next, dirty blonde cutie Kristen Scott — along with her pert titties and juicy ass — services our man's humongous gland. I like how she gets plenty o' spit all over man gristle, before he plunges that huge black pole into her sweet slit mish style. Doggie with Kristen is out of this fucking world, as is cowgirl, with that killer Kristen ass deliciously highlighted whilst in action. She also rides him superbly during reverse cowgirl, with Mandingo enjoying a little spoon action before splattering spunk all over Scott's mug. Adore this little bitch!
Finally, we have another all-around sweetheart, Aubrey Sinclair, who's even juicier than Kristen, barbecuing our bro's over-active boner to near ash. It's marvelous seeing Aub's attractive, innocent-looking face engage in the outrageous feat of attempting to suck down that black behemoth. She does her damndest, though. And when standing doggie soon materializes, it's sizzling. What a truly scrumptious derriere on this babe! Then we get doggie on a sofa, which is even better, with Aub bent over all the way and really lettin' her patty cakes fly, as Dingo drills her velvety hole. She takes every opportunity to suck his cock, by the way, which is (natch) a real treat. Reverse cowgirl and regular cowgirl follow, with the latter being as big a turn-on as doggie. Sinclair simply has a wildly succulent pair of ass cheeks made for porn. Next up is missionary, which allows us a good look at the fantastic front side of Aub's tasty little bod, followed by an eruption of Manny lather on her picture-perfect puss. Love this little twat!
"Mandingo Massacre the 13th" is an X-cellent gonzo from start to finish, thanks to great videography, spirited performances and four hussies with whom you'd love to share your bed. Or bathroom. Or kitchen. Or living room. Or doorstep!
Synopsis:
Big booty babe Abella Danger can't get enough BBC in her tight ass. Sexy spinner Megan Rain takes that giant cock in all her holes! Bubbly blonde Aubrey Sinclair wants every inch of that BBC. Kristen Scott is split in two by Mandingo's massive member.