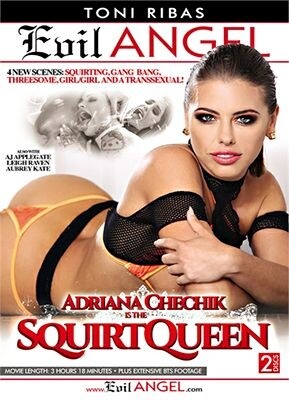 Over the course of two DVDs, 26-year-old uber whore Adriana Chechik (a native Californian, for the raunch record) does a gangbang, a girl-girl grinder, a threesome and even finds time to suck and fuck a trans superstar — with (fully living up to the gonzo's title) plenty o' squirting throughout all o' the filthy fun.
Disc one is definitely filled with lotsa wet, nasty surprises. "I was born to squirt," Adriana tells us during her opening glam footage, before really giving it to us. One cock after another appears while Adriana is on her knees, and she starts sucking a count o' five dicks — and squirting — with spit and her "fluid" going into a big transparent bowl as she works on them thar pricks. And this bitch really knows how to suck a mean boner — deep, long … and loud! The boys soon start plugging her cunt (no, she doesn't stop mouth-massaging man-meat, either), with a doggie DP materializing, transforming into a missionary anal train, more squirting (into the bowl, no less), another doggie DP, double-vaginal (yikes, guys), a reverse-cowgirl DP, more liquid eruptions from Chechik (where does she keep alla that stuff?!), another doggie DP including double-anal (damn, girl!), some man-ass eating, squirting, squirting, squirting (most of it goin' into that bloody bowl), more double-anal, the boys coming onto her mug (some of it inevitably spilling into the dreaded bowl) and Chechik pouring the bowlful o' toxic gunk all over her head. Shit, thought she was gonna swallow it.
Scene two on disc one has Riley teamed up with big-assed A.J. Applegate for some slick and salacious antics. Applegate gets Chechik to squirt lotsa fluid onto a hardwood floor, with both girls really lappin' it up, when they're not feeding on cunt and female fudge hole, that is. Applegate does her fair share of gushing, too! Dildos appear, with the tarts probing one another and cunt-tinuing to blast like human geysers. Toni Ribas ultimately sticks his cock out from behind his camera and gets a double suck from Adriana and A.J. Why not? He's paying for the spray.
There's hardly any slouching from ever-fluid Adriana on disc two, either. We start off with a threesome between Chechik, heavily tattooed brunette Leigh Raven and Markus Dupree. After Chechik squirts boatloads of stuff all over a sofa, Raven and Dupree soon arrive to drink up the ejaculation. And when Markus isn't fucking Chechik's ass or cunt, Leigh is down there sucking crap and pussy juice offa his well-dampened prick. Leigh is great at ATOGMs, lemme tell ya! She's quite the juicy-assed bitch, too, who also gets seriously probed by Markus and does her fair amount of squirting. The energy here is amazing; though I wish Raven got reamed in the rectum. It's nice, however, when Markus stacks Leigh on top o' Chechik and goes from the latter's anus to the former's twat. And, of course, both sluts share Dupree's generous dumping of dick snot.
Finally, Chechik gets down with 2017 XBIZ Trans Performer of the Year Aubrey Kate for some freaky action in a moodily lit dungeon. Kate eats Chechik cunt, gets a full squirt in the face, before Chechik sucks Kate's dick-a-rooni, sits her twat on said stick, gets her cunt plugged by Kate's member over and over again, with a highlight being doggie, before Kate blows cum onto Chechik's cakehole.
If you're a fan of super tramp Adriana Chechik, then you absolutely don't wanna miss this wet 'n' wild, all around filthy ride from the sex-crazed bitch. Wear your raincoat — you'll need it!
Synopsis:
Director Toni Ribas showcases a top porn beauty with a freaky talent for female ejaculation: Adriana Chechik Is The Squirt Queen. Naturally glamorous Adriana has versatile fun, swimming in geysers of gushing girl juice in every scene! Five studs surround Adriana for an hour-long orgy as she collects slobber and squirt in a bowl. The manhandling dudes spin her in the spilled slime flooding the floor as she fingers her bare gash to cascading girl cum. They triple-penetrate her airtight and stuff her ass in a double-anal reaming. Adriana pours her bowl of slop all over herself. She joins another royal squirter, butt-blessed AJ Applegate, for face sitting, full-body lovemaking and scissoring saturated by continual facial drenchings. They feed each other lesbian lava; Toni cums in their Frenching mouths. Elaborately inked Leigh Raven and hung Markus Dupree share Adriana and showers of squirt. Markus sodomizes Adriana and both girls ejaculate repeatedly. Adriana and glam blonde TS Aubrey Kate's gender-bent date includes deep throating, rimming, serious fucking and torrential squirt. Aubrey dick-whips Adriana's clit to a soaking tsunami.