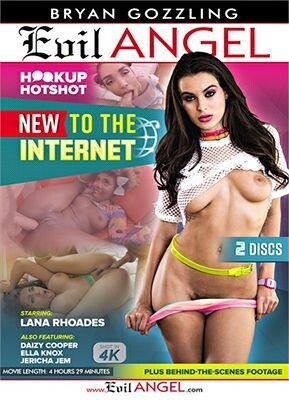 It's rough sex big league (over the course of two raging discs), with Bryan Gozzling "hooking up" with young slits/fresh female submissives offa the internet, all four of whom wind up with sore twats and tonsils — but with, ultimately, gleeful smiles on their sperm-coated faces!
There really isn't a bad scene in this gonzo, with disc one brilliantly presenting us with the hungry-for-dominance cunts and mouths of Lana Rhoades and Ella Knox. Of course, Lana Rhoades has a perfect body, and it's great seeing it get so slick with her own spit, as she gags on Gozzling gristle, while seeing her bent over and taking it deep during doggie is a moment-ass occasion, indeed.
Big-boobed Latina Ella Knox presents an even hornier episode, with her huge, all-natural titties getting all gooey with oil, as she and Bryan suck on 'em together, while her deepthroating skills are amazing. And you don't wanna miss this scorching hussy bent over (what a pair of succulent butt cheeks on Ella!). Darling, too, how she eats Gozzling farts. Nasty sweetheart!
Disc two equally rocks, with Gozzling taking on sweet black angel Daizy Cooper and white doll Jericha Jem. I totally dig how Daizy looks, so cute, and yet she's totally filthy, gagging on cock, getting her choice body glistening with her own upchucked spittle, while she's glorious in the doggie position, her tight yet juicy booty propped up and taking it deep. Big-boobed Jericha is no slouch, either. She's fair-skinned and oh-so compliant, choking on Bryan's ever-reaming boner, while looking good in every (literally) fucking position.
These delicious young bitches absolutely love it rough and filthy, making "New to the Internet" one kick-ass gonzo. Check it out!
Synopsis:
Bryan Gozzling uses social networking apps to connect with young cuties for severe sex. In Hookup Hotshot: New To The Internet, the dominant director meets up with frisky, adventurous sluts that love meeting strange guys. Every girl here ejaculates girl squirt! Bryan manhandles Lana Rhoades, porn's hottest starlet, in her most extreme scene yet: He disciplines the girly tramp with spanking and choking, and he hammer-fucks her puffy-lipped face like it's a cunt. Lana deep-throats. When her shaved pussy blasts multiple, squirting orgasms, Bryan feeds her the juice. Exotic, all-natural Ella Knox rims Bryan's bunghole; the deviant stud drills her throat, spanks her fleshy booty and decorates her in streams of hot spunk. Ebony beauty Daizy Cooper has perky tits, dark skin and a cute Afro. The submissive slut giggles as Bryan smears her face in puddles of girl cum, and she enjoys a graphic pussy plowing. Adorable Jericha Jem chats with Bryan on a dating app, smitten. They hook up for primal, animalistic fucking, and the nymph proves to be a sloppy cocksucker.