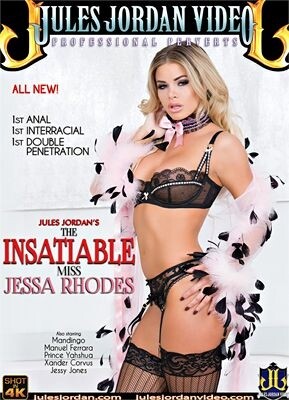 Wow! In this Jules Jordan-directed showcase, Miss. Jessa Rhodes delivers three fap-tastic firsts over the course of four scenes. Lookin' like the epitome of a blonde bombshell, Jessa shows off how, yeah, her appetite for dick is impossible to fill! Yum.
First up in fillin' Jessa's holes is the dynamic XBIZ Award-winning duo consisting of Xander Corvus, the reigning Male Performer of the Year, and Jessy Jones, the 2017 XBIZ Foreign Male Performer of the Year. The bad boys kill two birds with one stone and take Jessa's first anal and DP in one swift fuck. But, before Xander gets the A, he and Jessy take turns pleasuring the blonde of the hour.
They each get a mouthful of snatch and some sweet P-in-V action. Then, Jessa, who proves to be a real oral queen, takes Xander's entire ballsack in her mouth, and switches off between deepthroating each dude's delectable man meat. Xander gets first dibs on Jessa's fine ass, plowing her with ease. It doesn't take long for Jessy to join in, and soon enough they're DPing her with a steady rhythm. The boys have an easy chemistry, and Jessa seems to genuinely enjoy the double rockin'. Another highlight in this scene, for sure, is Jessa taking both dicks while only wearing a lace choker with a pink bow attached to it. Cute and sexy!
Next, the infamous Mandingo, and his horse cock, pop Jessa's IR cherry. After some sensual glam shots — she looks fantastic in her latex short-shorts and rose-printed lace top — of Jessa walking down the stairs, Mandingo wastes no time in getting his dick wet. The buxom blonde tries her very hardest to take the full length of him … and she gets pretty darn close!
Eventually Jessa loses her fashionable outfit, and Mandingo gets a taste of sweet, sweet vadge. He fucks her well, and her pussy must be magical because he's busting a nut almost instantly. He pops directly into her mouth, and the cum drips down her chin. They get a round two, because duh … who wouldn't want to miss out on a second serving of Miss. Jessa Rhodes. You'd have to be crazy! The second session is longer, and features more positions — like doggie and cowgirl — and another awesome pop shot.
The upcoming scene starts off with another sensual glam shot. This time, Jessa dons a simple black bikini and some stunna shades. She teases the camera by applying copious amounts of lotion to her fit body before Manuel Ferrara joins her. There's a lot of kissing in this scene, which as a romantic I always love, and lotsa poolside teasing. They fuck on the edge of the hot tub, with Jessa bent over and Manuel giving it to her from behind.
The duo makes use of the outdoor furniture, fucking in spoon position on the couch. Jessa moans loudly in ecstasy, bouncing back on his dick. Manuel takes advantage of every tight little hole. He shoves his dick in Jessa's mouth after fucking her in the pussy, then leads them to a more secluded area to give it to her anally. Jules captures some pretty intense gapes in this one, having Jessa flash her asshole to the camera on multiple occasions. This one's a must-see for anal fans for sure.
To round out the showcase, Jessa gets another helpin of BBC, this time courtesy of Prince Yashua. Pretty babe Rhodes wears all white in this scene. She sneaks her way into Yash's home, and interrupts his TV time. Of course, no man would ever deny Jessa! Yash teases Jessa before giving her his dick. He peels off her clothing, and tweaks her perky nip nips.
Jessa puts on a stunning performance in this scene, in my opinion. She manages to take Yash's entire dick in her vadge during cowgirl, and delivers her best blowjob in the scene. She dribbles spit all over his BBC, offers some dirty talk, gets creampied and laps up the residual jizz from the tip of his dick. Atta girl!
Jules manages to get in some really awesome camera angles in this one; the viewer gets a load of great shots of Jessa's goodies throughout the entire showcase. If you're a huge fan of Jessa, you won't be disappointed. And, if you're just a casual watcher, be prepared to be entranced by none other than Miss. Jessa Rhodes!
Synopsis:
They say you never forget your first, and if that's true, The Insatiable Miss Jessa Rhodes is going to stick with you for life! Jessa Rhodes checks a lot of firsts off of her fuck-it list for this action-packed showcase. The perfect blonde bombshell tackles some of the BIGGEST COCKS in porn for some ambitious and delicious sexual feats. Miss Rhodes let's Manuel's fat cock plunge her tight ass for her very FIRST ANAL - and she doesn't stop there! Jessa needs to be satisfied and it's clear that she believes in living life by the old "go big or go home" standard when she invites Mandingo into her holes for her FIRST INTERRACIAL. There's plenty more where that came from, and with a craving for chocolate, this stunner gets more BBC from Prince Yahshua's fat pole... but she's not done until she crosses off her FIRST Double Penetration from the list in an insane threesome with plenty of face-fucking and DP positions to keep her cumming back for more. Jessa Rhodes is insatiable, alright, and we can't wait to see what's next...