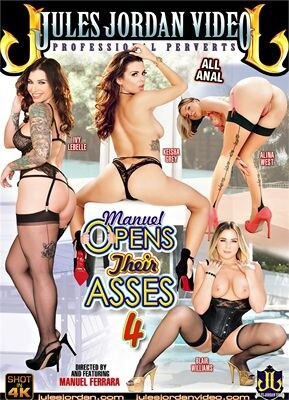 Don't you just love the subtle title of this gonzo series? French lothario Manny — sporting an uncut snake in his trousers — fucks four babes in the rectum (all of 'em 23 — the babes and their crappers — except for luscious Ivy Lebelle, who's a tasty 30 years of age). And it's scorching sphincter slamming, indeed.
Alina West is a petite hottie with a wiry body and (kind of a unique physical trait for her slim figure) a big juicy ass, and it's especially put to good use when Manuel reams her shithole in the cowgirl position; her big booty cheeks vibrating like crazy, creating an incredibly arousing effect. She's not a bad cocksuck artiste, either (hell, no guy in his right mind would turn down this fox for oral and/or anal treats), but she is just a taste of the suckettes to cum in this title.
Naturally, you can never go wrong with the perfectly sculptured and regularly nasty Keisha Grey, who is, of course, awesome to watch getting cornholed (or even just vadge banged) in the doggie position, but you'd be surprised how excellent she looks in the missionary stance, her anus gaping full steam ahead, while her tits hornily jiggle, and we get a fine view of not only her sexy face but her great set of abs (been hitting the gym lately, eh Keesh?). Her blowjob is also more 21st century, in terms of deepthroating, gagging and choking. Good form (as usual), Grey baby.
Next, the slightly older, but no less bolder Ivy Lebelle is a tall babe with a prominent backside who has a slow and steady way of dreamily fucking; her sizzlingly salacious scene proving that Ivy's one of those girls you'd pick up at a club, bring home, enjoy some liquor with, and find out that she's one of the best fucks of your life, being, again, so sleepishly slutty. Her own blowjob is a bit more conventional in terms of, fine with me, not so much gagging and choking; although at one point Manny does fuck her face, which will absolutely get you all the more fired up over this highly compliant little (but big-sized, in a good way) trollop. Love her.
Lastly, Blair Williams is up with at bat, proving herself the best blowjob whore in the movie — watch her nearly puke on cock as she bathes it in spit, whilst simultaneously bathing our ears with marvelously rude choking noises as she delivers one deepthroat plunge after another — but she also has an anus that simply can't take a dick-plunging hard enough. Don't care much for her corset, but, hey, that wouldn't stop me from hammering her (mouth, cunt and tonsils!) silly.
Manuel Ferrara ultimately delivers a volcanic quartet of scenes with a nice selection of anal tramps, including the always-welcome Keisha Grey and the (to my eyes and boner, at least) relatively new and highly humpable Ivy Lebelle. Check it out.
Synopsis:
Keisha Grey gets an ass stretching from Manuel's hard cock. It's always 'Open Season' on Ivy LeBelle's O-ring! Blair Williams takes the 'A' train to Gape town. Alina West gets her ass invaded by Manuel.