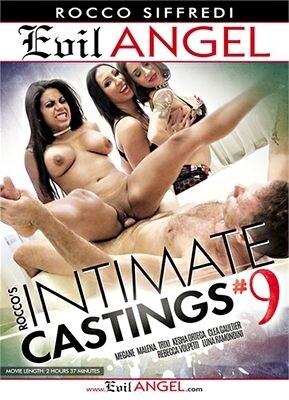 Tantalizing, filthy Euro whores mix it up with Rocco and his traveling menagerie of man meat.
Up first is the exquisitely tattooed Megane from Bucharest, Romania, and she's a right slut — a good thing! — taking on the brilliant Chad Rockwell, some other fella who speaks Italian and Rocco himself, also sticking his prick into the scene. Megane not only deepthroats, but eats man-butt, as(s) well. The cocks cornhole her — and, apparently, this scene's her first-ever, too! — before DPing the tatted tramp. Our unnamed Italian (let's call him "John Price") pops pretty quickly after banging Megane's booty; Rocco replaces the guy in a cunt-tinuation of the doggie DP, with he and Chad soon double-pussy penetrating her; after which Italiano boy returns to invade her anus (yet again) and pops (yet again! — talk about one horny fella!); then Chad pops (I think); followed by Roc taking over and blasting boy batter into her mouth. Not a bad first scene, Megane. Kudos!
Next, the incredibly sexy Trixi and equally alluring Malena are teamed up with the returning "Price" for some scorching slammin' a la salami. The girls warm up, however, by eating each other as if they've been starved for several days. Lap it up, sluts! They then give our stud one helluva double BJ (damn!), before he lines the two of 'em up, doggie style, and humps 'em fairly heatedly. Trixi has an extra juicy butt, by the way, making her way, way delectable. Toys come out briefly, before the cocksman gets hard again and ass-fucks Malena doggie, then spoon, then reverse-cowgirl, with Malena doing a fine ATM before jumping her anus back onto that over-worked cock. He then doggie ass-fucks Trixi, feeds his stained cock to Malena, who greedily gorges on the stick in a volcanic ATOGM. Trixi then gets butt-fucked cowgirl, does an ATM, which she shares with Malena, who eats Trixi's anus when it's not getting doggied, before the fella pops on Malena's mug, with Miss M. sharing the gunk with Tricks. It's a beautiful thing!
Latina Kesha Ortega from Venezuela, big boobs/big ass and all, then takes on our director POV style for some spirited romping. She deepthroats cock and munches on man-ass, before we see some awesome cowgirl action. The camera's on a tripod, but it's still intensely whackable, Kesha's big Latina ass cheeks flowing everywhere. This whore knows how to ride cock! Reverse-cowgirl is pretty sizzling, too! Rocco then picks up the camera and does some close-up camera shots of that big, luscious ass gyrating in an almost hypnotic manner.
Next, Cleo Gaultier, from France, is a pretty little 25-year-old with a wiry body, getting it on with Anthony Gaultier who, I'm assuming, is her hubby and not her brother (but, hey, think what you like). Not a bad cocksucker, Cleo soon revels at getting doggie dunked, then does a fine job in the spoon and reverse-cowgirl positions. And check out how she does the splits while engaging in some cowgirl. Flexible young lady! Rocco, behind the camera, fingers her whenever possible (horny villain that he is), before Tony erupts spermatozoa onto Cleo's gob. Good stuff.
Lastly, we have two Italian babes with killer bods — Luna Ramondini (19, the blonde one) and Rebecca Volpetti (18, the brown-haired honey) — getting down and very dirty (natch!) with Roc himself for a fiery finale. Luna eats man-ass, while Becky sucks cock, before they change whore-positions. Rocco then fucks Becky reverse-cowgirl style in front of a mirror, before she humps him cowgirl. He then drills Luna missionary and reverse-cowgirl, before anal boring Becky spoon style and mish, with Luna doing some fine ATOGMin'. Cowgirl anal a la Beck is next, with Luna, at times, eating Becky's gapin' shitter. Then Luna herself takes it up the crapper (yah!) mish style, before she sits her shit on prick sideways for some fun grinding action, with Roc pulling out, blasting off onto Becky's mug, with Becka doin' the ATOGM honors, with some help from lusty Luna in terms of sopping up that Siffredi sperm. Whew!
"Rocco's Intimate Castings 9" is nasty, fulla Euro babes, and, well, rather fantastic. Well worth viewing. And spewing to!
Synopsis:
Perverse porn legend Rocco Siffredi auditions beautiful international sluts in Rocco's Intimate Castings #9. The veteran director takes care of business using his sexual imagination, enormous cock and occasional help from his stud buddies. Busty Romanian MILF Megane is heavily tattooed from her head to her feet. Rocco, Chad Rockwell and John Price take turns fucking Megane's slutty face, and they stuff her asshole in a double-anal penetration! Buxom young sluts Malena and Trixi share some lesbian dildo fun. John reams each girl up the ass, and they clean cock ass-to-mouth. Venezuelan sex bomb Kesha Ortega gives Rocco wet, slobbery head and then mounts his massive meat. He splatters her pretty face with sperm. Athletic but refined French porn beauty Clea Gaultier passionately fucks her guy, Anthony, in a series of lewd, gymnastic positions. Adorable Italian teens Rebecca Volpetti and Luna Ramondini offer every orifice to Rocco's monster dick. They rim his butthole and enjoy kinky foot play -- Rebecca laps cum from Luna's feet.