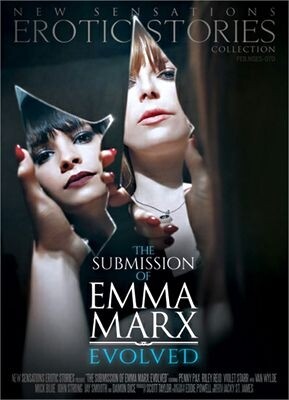 Jacky St. James is truly a double threat. Not only did she direct the latest "Emma Marx" title, but she's also the woman behind the script — and fuck is it good! "Evolved" picks up two years after "The Submission of Emma Marx: Exposed." In this fourth installment, Emma (Penny Pax) is dealing with the death of her first dominant, William Fredrick, and has decided to abandon the BDSM lifestyle. However, her world is flipped upside down when she meets Mariah (Violet Starr), a cute and sassy girl eager to learn all about BDSM. Who better to teach Mariah how to be a superb submissive than Miss Emma Marx herself, right?!
The first scene starts with Emma moving into her sister Nadia's (Riley Reid) guest bedroom. As they chatter in the kitchen, Nadia exclaims, "Hate sex is the best sex!" and tells Emma that she's broken off her marriage, but the sex between them has never been better. Cue the flashback!
Nadia and her soon-to-be ex-husband Ray (Van Wylde) bicker about who gets to keep the house. It doesn't take long for the sex to start. Just like their fight, their sex is heated! Van has solid abs, nice arms and a thick, thick, thick (!!) dick. He manhandles sweet and petite Riley Reid easily, pressing her back against the couch to rail her passionately. She gives him a fabulous blowjob, spit dripping down to his ballsack. He returns the favor with wet oral, and then a rough fuckin' in four different positons. Sexy scene.
Moving on with the storyline, Nadia explains to her sweet sister Emma that she's also rented out the other room, otherwise she can't afford the home. Mariah, the roommate, is completely mysterious. The story's narrator explains that Emma, in the past month she's lived with Mariah, has never actually met her … but she has heard her have loud sex!
One day, out of sheer curiosity, Emma stumbles into Mariah's room and sees multiple BDSM garments like latex masks and whips, which triggers Emma's memory. She remembers her own submissive experience.
Suddenly, before Emma can sneak out of the room, Mariah and her nameless flavor of the week (Damon Dice) tumble in. Emma quickly sneaks under the bed. The duo get to fucking instantly; Mariah asks for Damon to slap her ass, and take control. The sex is saucy and energetic. Mariah is surprisingly a strong performer, and she's gorgeous, too. (I dig her grungy look, straight bangs and dark lipstick.) Despite her asking for control, it's clear she dominates the scene. Mariah fucks Damon's character into submission; she gags on his dick, gets fucked while handcuffed and even gets choked while fucking herself with a toy. The scene's extreme, but really fucking great.
When Damon leaves, Mariah startles Emma by asking, "Did you enjoy the show?!" Eventually, both girls bond over their interest in BDSM. Mariah reveals she would love to learn and wants Emma to teach her. After some reluctance, Emma does.
Violet Starr has got some actin' chops. She plays the naive, inexperienced submissive super well. Her eyes are wide and her excitement is charming when Emma takes her into her playroom. "Mistress Emma. That's what I'm gonna call you. That's the rule, while we're working together," Mariah says. Emma replies, "That will be the first and only rule you ever make." Oh, yeah. Emma's totally going to rock being a dominant!
Then, there's a brief montage of Mariah getting into her role as a submissive, with Emma making her do extreme things, like electro-play and some extreme rope bondage, as well as engaging in light humiliation.
Back to the storyline, Nadia explains to Emma that her ex hubbie is probably moving back in, thus throwing a wrench in Emma and Mariah's relationship. Mariah, mid coitus, reveals to Emma that she's become too attached. Emma seeks a solution.
In the next scene, Emma explains to a blindfolded Mariah that she must find her own dominant, and has brought in three men to try out for the position. Each man handles Mariah differently, but Nicholas (Jay Smooth) is the winner. Nicholas manhandles Mariah sexily. He teases her, makes her beg and fucks her on every surface in the playroom. The scene is dark, twisted and the camera work makes it truly, truly sensual.
Just as the movie starts to round out, Emma lets Mariah know she could never be her dominant, which upsets Emma. When Emma walks into Mariah's room to apologize, Mariah has already left, leaving no trace behind.
The last scene places Emma in between two men (John Strong and Mick Blue), which she explains via narrator is her "last first" before exiting the submissive lifestyle. The men constrict her body, and rough her up. John keeps a vibrator to her clit, and Mick tends to her nipples. They DP her, and Emma goes absolutely crazy. Both dudes end the scene with cumming on her ass after she begs for it.
I won't spoil the ending for you, but it's sweet and really comes full circle. (There's a happy ending, for sure!!) When I say get this title … I fucking mean it! It doesn't matter whether or not you're into BDSM, "Emma Marx IV: Evolved" will make you wonder why you ever waited in line for "50 Shades of Grey" when the adult industry has had real BDSM gems like this all along! Penny Pax is amazing in the role, and Violet Starr is an awesome newcomer. I'm looking forward to the next one.
Synopsis:
Ever since the death of her first dominant, William Frederick, Emma has struggled to adjust to life as a submissive without him. Unable to form lasting connections with other men, Emma chooses to abandon the lifestyle completely. But, her world is flipped upside down when she meets Mariah, a sassy young woman eager to explore the BDSM world. Seeing much of her former self in this young woman, Emma takes it upon herself to educate Mariah about life as a submissive and volunteers to act as her temporary Dominant. However, things become complicated when Mariah grows attached to Emma and wants their arrangement to become a permanent one. Will Emma be able to walk away from the life she always loved and a girl who desperately needs her? Or is there more in the BDSM world for Emma than she ever fully realized?