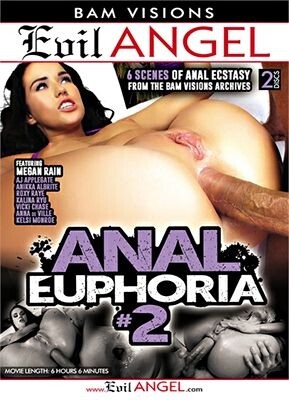 A nuclear cum-pilation of Mick Blue-directed/-performed sequences (six in all) on two discs, featuring some of the industry's absolute nastiest buttfuck whores.
Starting off disc one, Mick's real-life wife, Anikka Albrite, team up with big-bootied babe A.J. Applegate for some rousing rectal romping. The girls not only give up their slits and shits to Mick-meat, but(t) also enjoy ATMs, ATOGMs, cunt-/ass-eating; and, as you can imagine, the filthy bitches suck cock to the base, with plenty o' rude choking sounds and oodles o' saliva; while A.J. is even doggie DP'd, with Albrite donning a strap-on to fill the former's twaterola, with the ladies ultimately doin' some freaky cum-sharing. Nice.
One of my favorite scenes, however, is the messy (a good thing!) anal obliteration of incredibly juicy, all-natural Roxy Raye. Aside from impressively inhaling and blasting out an octagonal toy from her anus (a few times, too!), Raye deepthroats Mick's prick, takes it deep up her dung ditch (at times, with the octagonal thingamajig already up her craphole!), and gapes her poop pit magnificently, with her beautifully bountiful butt cheeks jiggling like crazy when she's cornholed.
Rox even eats Mick's Austrian (arghhh!) gas bombs (as in f-a-r-t-s). Additionally, it's good to see that Mick doesn't waste Roxy's vadge, but instead slams it good and proper. He also sticks a huge purple dildo up her butt, then pummels her pussy with his cock. And, in one of the oddest moves, Mick ties up his balls into a bundle and, actually, jams said ballsack up Raye's stinker, with Rox suckin' her own crap-juice offa them thar Blue balls. Gotta get out more often there, Micky.
Disc one ends on a fiery note, indeed, with anal princess Megan Rain gettin' her booty banged by Blue. One of the prettiest girls in porn, Megan is also one of the dirtiest, taking it way up her fudge factory, licking her own shit offa Blue's bang-baton, while also providing the best BJ around, as well as displaying some awesome ass-cheek jiggling action during doggie anal and vadge. Can't get enough o' this darling vixen with the perfect (and perfectly fuckable!) bod.
Blazing through equally volcanic disc two, we have a sizzling threesome 'tween Vicki Chase, Kalina Ryu and the returning Anikka, with the latter taking McDick up her vadge, then her rectum, and our Latina and Asianette offering up their greedy sluts' mouths to eat cunt/ass, suck McPrick, and doo-tifully perform ATOGMs; and don't miss the two- and three-way blowjobs which over-sexed Blue receives from Chase, Ryu and Albrite; while fair-skinned, tattooed Anna De Ville and golden-tanned, big-butted Kelsi Monroe marvelously round off this assfuck X-travagonzo (I've always wanted to marry Kelsi, so it's fanny-tastic that she cunt-cludes this epic-length serving o' decadence).
Starring the best sluts in the biz, "Anal Euphoria 2" is, in a word, awesome. Definitely a desert-isle gonzo.
Synopsis:
The talented filmmakers at BAM Visions (including porn power couple Anikka Albrite and Mick Blue) compile a bevy of thrilling butt fuck blowouts in the mammoth, six-hour "Anal Euphoria #2." Lusty blonde Anikka surprises hung stud Mick with backdoor star AJ Applegate bound and gagged in their bed! The ass-blessed girls get bi with an anal strap-on; Mick mauls AJ's rectum as AJ deeply rims Anikka. Glamorous gape queen Roxy Raye takes giant toys up her athletically elastic colon, and Mick jams her pussy with cock as he stuffs his balls in her bunghole! Sassy teen Megan Rain eagerly swallows Mick's meat; he reams her holes and creams her face. Latina lust bucket Vicki Chase, Asian beauty Kalina Ryu and Anikka make out, stripping down to stylish lingerie. As Mick sodomizes Anikka, Vicki and Kalina help out with girl kissing, spit swapping and twat tasting. Pale Anna de Ville has a butt plug in place when she meets Mick. Her anus winks and he porks her every hole. Mick injects all-natural stripper Kelsi Monroe's butthole with lube that looks like elephant cum! She rims him submissively and takes a serious anal pounding, till goo drips from her tender orifices!