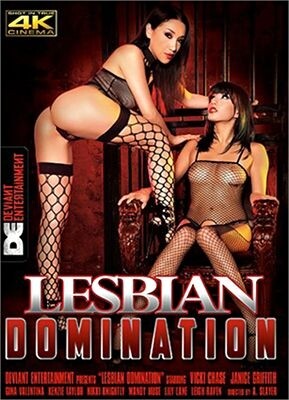 From Metro and Deviant Entertainment, we get eight sizzling ladies performing in four separate pairs (two ladies per episode), eating each other's pussy and anus, while also sucking tits (and face, as well!) in fairly atmospheric settings.
In a smoky, red-tinted dungeon, Lily Lane dominates the shit outta Leigh Raven, with arousing results. We first see Raven's head sticking out of the top of a padded table, with buxom Lily sitting right on that face and makin' Leigh lick like there's no tomorrow. We then see that the table surface is, actually, the top of a mini cage, which Lane opens to release Raven and further fuck (with) her. Both ladies are heavily tattooed, making for an added visual treat, on top of their way-juicy bods. Raven is a good cunt licker, using her finger for some probing. Raven exerts a bit of her own domination over Lane at points, really smacking Lily's ultra-superb meaty butt. Love it, too, when Raven's sucking Lane anus till it's soaked with her spit. Lane, thankfully, returns the rectal flavor. On top of all o' this fun stuff, we have a nice ending, letting the scene cum full circle, with a sweet twist.
Next, Nikki Nightly, in another smoky dungeon, terrorizes one of my all-time fave porn starlets, the incredibly luscious Mandy Muse. After releasing Mandy from her own cage, Nightly spanks her delicious butt, soon forcing Mandy to suck her pussy, deep and long. Muse is an excellent muff muncher. Both bitches, by the way, are wearing totally sexy black fishnet body stockings, with useful holes to better attack cunt/anus. And we get loads o' bent-over shots of these fine sluts, who just can't get enough o' pink and stink, making for one volcanic sequence.
Beautiful Janice Griffith is next lustily menaced by lascivious Latina Vicki Chase. At the end of a long, foggy brick hallway, Griffith is tied to a chair, with Chase whacking her a bit with a crop, before the two move to a larger 'play' room where Chase gets Griffith upon a padded table and really chows down on clam. And wait till you see Janice bent over on all fours, her delectable derriere way up in the air. She's also wearing an outrageously sexy black fishnet body stocking, open in all of the right spaces. It's not long before Chase makes Janice suck on her Chase twat; and — hey, Vick has an awesome ass herself! There's a lot of vibe-on-cunt action as well, but it's balanced with enough sucking and kissing to make things truly decadent.
Lastly, big-boobed blonde Kenzie Taylor goes at it with wiry brunette spinner/slave Gina Valentina for yet another smokin' slit-to-slit scene. Tied on her back to a big padded table in (you got it) another smoky, (but this time) blue-tinted dungeon, Kenzie sucks Gina's fine pussy, before the dominating Taylor sits her big ass (wowie!) on Valentina's pretty face, with the latter really slurpin' up a storm. Again, the ladies are wearing black fishnet outfits, which are always just oh-so-fucking hot-looking. And, aside from each tramp's fine bottom, you can't miss those amazing headlights on Taylor. I also like the way both bitches, literally, swap spit, while Taylor has a high ol' time o' feasting on gash a la Gina. Eventually, Valentina sheds all of her threads (except for her black boots), and is forced to stick her scrumptious ass up in the air for Taylor to attack with mouth 'n' vibrator. Taylor then has Gina vibe her own cunt and kiss her until the scene fades to black.
Featuring eight smokin' broads, these scenes are just long enough to thoroughly get you off, especially since the babes involved seem truly sincere, absolutely passionate about eating snapper — and a little starfish, as well.
Synopsis:
Anything goes in the world of Deviant Hadcore as four girls get pushed to their breaking point by their mistresses just before they cum.