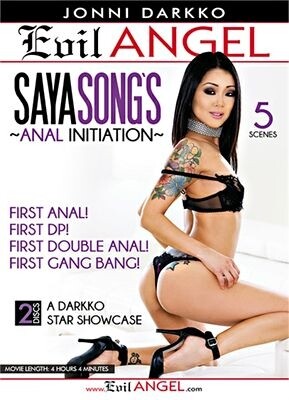 31-year-old Korean honey Saya Song (she was born in Seoul but raised in the States, for the raunch record) does everything over the course of two discs from anal, to squirting, to double penetration, to double-ass penetrations, even fitting in a gangbang along the gnarly way.
On disc one, after jamming dildos up her anus, Saya sucks director Darkko's dick and dunghole in a saliva-lathered frenzy, with a fantastic blastoff into her pretty face; before, that is, Russian meat-puppet Markus Dupree ravages her mouth and rectum, with the dirty bitch loving gag-raging ATMs (and Saya squirtings). Not a single one of her many positions is a bad one! And don't you love those constant gapes? — from Saya, not Markus.
But disc two is really the shit! First, Saya is seriously mouth-fucked, ass-pummeled and both double-penetrated and double-ass-penetrated by John Strong and Markus Dupree in many positions; love the upside-down blowjobs, too! And even mopes Chad Diamond, Donnie Rock and Filthy Rich sneak into the room to add some froth to the frenzy by using Saya's already-splooged mug as a cum receptacle. Whew! We're not dung yet, though!
The big finale is Saya's six-prick gangbang, which is one of the year's highlights, as four white lads and two BBCs fill her every hole. After priming up the boys with an energetic blowbang — look at alla that spit getting our tasty lil' spinner's equally tasty lil' tits all slick — Saya offers up an anal train (love her black fishnet garters!) in mish and spoon positions; a reverse-cowgirl DP, with the boys taking turns fucking her cunt while one lucky slob takes care of her tukus; constant blowjobs; loads of ATMS; a doggie DP, with the boys, again, taking turns invading her starfish; followed by another reverse-cowgirl DP with (yet again, in a terrific show of XXX democracy!) different guys taking turns filling her fudge funnel; some choking (literal, as well as with cock in her gob); a standing DP; more ATMs; and, eventually, all o' the guys blasting off into her mouth, with this incredible fuck-socket saving all o' the gunk inside her mouth before releasing it into a huge glass bowl, then having it funneled into her cunt, after which she sucks out the toxic waste via a long plastic tube. Whew! Talk about amazing sleaze!
Saya Song rocks in each and every one of her many scenes in "Anal Initiation" (even the horny solo shit she does totally kicks ass!), with her gangbang being truly awards-winning smut. Yep, this apocalyptic gonzo is a more-than-worthy addition to your permanent-porn collection!
Synopsis:
Stylish director Jonni Darkko showcases a blossoming Asian-American starlet in Saya Song's Anal Initiation. The exotic stunner with the bright smile and beaming sexual energy gives her nastiest, most graphic performances yet, performing virgin acts including her first on-camera butt fuck, DP and double anal reaming! Saya stretches her sphincter to the limit in an explicit introduction. Jonni throttles her asshole with toys, creating a budding rectal prolapse! In a POV-style blow job, Saya sucks Jonni's balls and he decorates her face in streams of hot nut. Superstud Markus Dupree takes the honor of stuffing the first porn dick up Saya's butthole. He hammers her ass to excessive gaping, and she farts when he plucks his prick from her posterior! Saya retaliates on her cheating fiance by letting Markus and John Strong defile her. She tongues bunghole and squirts fountains of girl cum through intense double penetration, and there's a surprise bukkake facial! Six rock stars manhandle their biggest fan in a furious, backstage gang bang. The band crams all of Saya's holes; she sucks cock ass-to-mouth and swallows semen.