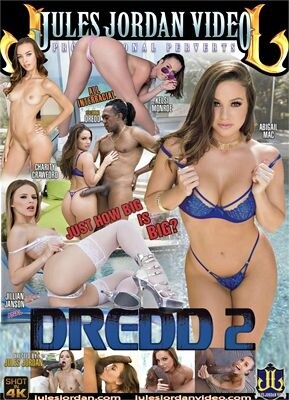 Possessing a cock which looks like a huge roll o' black bologna, older BBC wielder Dredd fills up the throats and vaginas (and, in the case of adventurous Jillian Janson, the anus!) of four whorish white chicks.
After Dredd "picks up" Kelsi Monroe somewhere along the waterside of South Beach, Florida (a raunch rendezvous that's, quite obviously, all been arranged) — but not before Monroe does some splits and shows off her gymnastic talent — our featured Blackzilla takes her to a nearby bedroom where she shows her tonsil 'n' twat abilities. Monroe's a good cocksucker, trying to get as much of that black behemoth in her gob as humanly possible. But being a big-bootied babe, she's definitely a treat in the cowgirl and doggie positions, where her bountiful buttcakes can flow like mad, which they (thankfully!) do. And Monroe is just such a good-spirited gal, it's impossible not to truly adore the hot bitch.
Next, Dredd invades sultry Abigail Mac with fiery results. I love the way Abby just gets saliva all over the joint when sucking (or trying to suck!) Dredd's enormous member … for a little while, at least. He goes, by the way, straight for doggie, which is ab fab, indeed. Mac's a moaner who likes to kiss. But Dredd really gets a groove goin' during reverse cowgirl, with our girl wildly grinding down at times, and when it's shot from Dredd's perspective, it looks like doggie once again, which rocks. Cowgirl is even more amazing (once she finally gets that huge black bone into her cunt), with Abby really goin' to town and ridin' that black beastie like there's no fuckin' tomorrow.
Third up is slender waif/spinner/18-year-old Charity Crawford, whose naughty bedside manners are quite pro-vocative. Crawford is, actually, one of my favorites of the four floozies here. She looks like a model and does, on-camera, all the sleazy things you'd expect behind-the-scenes from a mainstream cover girl, as in gluttonously suck and fuck. She's particularly magnificent to view during cowgirl and reverse cowgirl, truly riding Dredd's dick like a champ. Doggie is just as memorable, with those little patty cakes jigglin' and gyrating everywhere, during one of this gonzo's true highlights, and for a fairly long time, too. Hoor-ray! And it's fantastic seeing her picture-perfect face get all sloppy with sperm. Love ya, Chari!
Lastly, we're treated to a barnstormer, with the always cute, horny, and (better still!) nasty-as-fuck Jillian Janson getting all three holes plugged with slug (separately, of course) via veiny dong. The ever-precious/perverted Jillian tries her damndest to get that one-eyed Cyclops down her throat, but has much better luck taking it down her cunt/shitter. We start with a rousing bit o' doggie vadge, followed by more sucking/gagging, some standing doggie, a little (actually, a lotta!) squirting, reverse-cowgirl anal, some ATMin', spoon anal, another ATM, doggie anal which is deep and (natch!) dirty, one final ATM before — ker-powee! — Dredd loses his head and spills on Jill's pretty mug. Precious.
This interracial gonzo from Jules Jordan Video doesn't have a bad/boring babe in the house and (once the glam stuff is out of the way) moves fast and furiously. Whackworthy!
Synopsis:
Dredd returns to devastate these willing, naughty women each of them willing to challenge their holes and sacrifice them to our hero's cock!