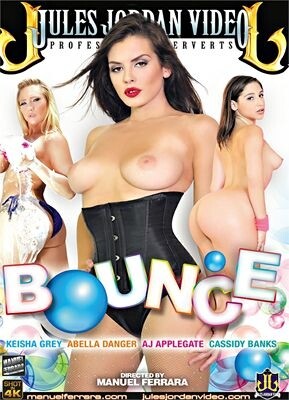 Not to be confused with the laundry product Bounce — used to, ahem, reduce wrinkles and static from clothes in the dryer — this XXX version does feature the wrinkled member of Manuel Ferrara, separately paired with four fine sluts, whose tits and/or butt cheeks jiggle, undulate and, yes, "Bounce" whilst being boisterously banged by our Parisian pudster, also (for the raunch record) doubling as the movie's director.
After lots of glam footage of the always amazing Keisha Grey — particularly in terms of her perfect tits 'n' butt — Manuel finally hammers this priceless piece o' porn perfection. Donning a corset, Keisha offers a wonderful deepthroat of a blowjob; rides Manny cowgirl style, which highlights those ever-cascading butt cakes; gets skewered a la spoon; chokes on cock again before eating French farts; rides reverse cowgirl; is boned in the mish; gets her fairly ample breasts fucked; and then, finally, takes it doggie style (which is what we've all been waiting for with Keisha, right?). I just wish the camera was closer on Keisha's incomparable booty cakes during doggie. But(t) I like how a second round of reverse cowgirl is shot from behind Manny, as if it's doggie. And, sadly, no anal from Keisha presents itself before Ferrara finally blows spunk onto her hungry tongue.
Our next babe to get slimed is none other than anal princess Abella Danger, equipped with her own killer ass cheeks and (yes!) voracious craphole (yep, she does take it up the kah-kah cave). After a head-turning blowjob, Abella squats onto Manny meat, riding him cowgirl. Ferrara fucks Danger's fudge factory in the spoon position (she most laudably likes to kiss and devour Manny's soiled fudgsicle), with doggie anal giving us some fanny-tastic gapes, while cowgirl lends the bouncy-bouncy effect.
Next, after plenty o' glam stuff, big-boobed/-assed Cassidy Banks gets the Ferrara treatment, during one of this gonzo's major highlights. Actually, of all the chicks in this flick, Cassidy does have the most bounceable boobies. I even dig the little bit of baby fat she possesses. It works for her! And me! Aside from her luscious physique, she offers a saliva-drenched, deepthroat of a BJ, followed by a rocking round of cowgirl. I also like how Manny and Cassidy suck on her tits together during spoon (yes, her all-natural fun bags are that big). Doggie, though, is the true showstopper, with the camera getting in fairly close; but, still, I would've loved a longer back-slammin' session. I like how Manuel's prick literally coats Cassidy's cute mug with spermatozoa.
Lastly, we have our second anal princess (she's really more of a queen at this point in her illustrious career), A.J. Applegate, who provides yet another barnburner of a "Bounce"-equence; in fact, probably the movie's best. Yes, Applegate provides her usual impressive cock-choking technique. Hell, her big butt cakes are even undulating when she sucks dick! Cowgirl a la A.J., of course, never disappoints, as her cheeks are rollin' every which way. Manny sticks it into her stink during mish, which metamorphs into spoon anal, followed by doggie anal and some sweet gapes; though, surprisingly, her butt cakes don't jiggle as much in this position. Ferrara does doggy her anus a second time and cocoons her face with cum, which ends the movie on a perfectly nasty note.
All in all, "Bounce" is a strong title due to a duo of deliciously attractive dames (particularly in the cases of Keisha and Cassidy) and a pair of fairly filthy fuckers (Abella and A.J.).
Synopsis:
Keisha Grey's perfect jugs and round ass were made for fucking. Abella Danger loves it in her Danger-ASS. AJ Applegate gets a hard anal pounding. All natural Cassidy Banks shows off her tremendous assets.