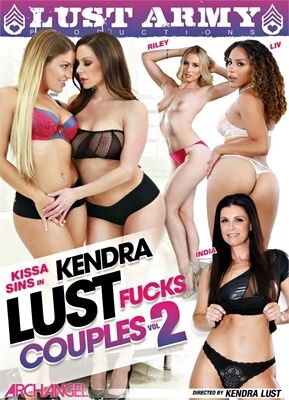 Kendra Lust really does it all, huh? She fucks, directs, comes up with with sweet storylines and makes sure everyone she touches cums, and cums, and cums ... "Kendra Lust Fucks Couples 2" is a dream come true, so sit back and let Kendra seduce you and your hubby/wife. You won't regret it.
First up, Kendra squeezes her way in between real-life couple Kissa and Johnny Sins. Admittedly, this is my first time ever seeing them on screen, and I'm impressed. They're hot as hell together, and they tag team Kendra seamlessly. The scene starts with Kissa taking selfies — Kendra joins her immediately, and the duo get right to the kissing ("You've been flirting with me too long," Kendra accuses, then asks about Kissa's boyfriend. "He's at work, he'll never find out," Kissa replies). Before Johnny gets in on the action, Kissa and Kendra take turns ravishing each other. Kissa compliments every inch of Kissa sweetly, which makes the other girl giddy with excitement. A major highlight is Kissa wailing with pleasure while riding Kendra's face.
Johnny walks in just as Kissa's got a faceful of Lust-ful pussy. "You two are definitely not in trouble," J says, grinning the whole time he approaches them, already getting in for a three-way kiss. Doesn't take long for the dude to get naked, and Kissa playfully exclaims, "We could use his penis!" And they do, a lot. He's already hard (I mean, who wouldn't be??!), and each girl tends to his cock hungrily. It's clear that Kendra is the star of this menage a trois; both Sins make sure she's the focal point of their ministrations, and that she gets to cum first. The scene ends with Kissa smoochin' all the cum off of Kendra's face. A+ Sinners!
Next, Mrs. K(endra) gets a special delivery from Lucas Frost: her groceries! Welcoming him into her home, Kendra asks for some help putting away the heavy bag of veggies and things get steamy real quick. Lucas plays the shy guy quite amazingly, stuttering when Kendra gets a handful of cock, and he looks like a damn snack lying on the couch with Kendra's pretty mouth on his cock. "I stroke it like a bad girl," Kendra seductively says, making Frosty's eyes roll to the back of his head.
They're interrupted by Lucas' hot blonde girlfriend, Riley Reyes, who was waiting in the car and got bored. Lucky for her, Mrs. K is all about sharing and Riley's totally willing, too! "You're not mad?!" Kendra questions. Riley smiles, "I'm just mad you guys left me out of the fun, but we can fix that!" Riley and Kendra are too fucking cute together, smiling as they kiss one another and taking turns slobbing on Lucas' thick dick. The scene ends with Kendra reminding Lucas he needs to put away her groceries, so she can make out with his girlfriend in peace. Girls rule, boys drool!
Third scene has a lot more storyline; Kendra plays a therapist that would make any patient want to break code immediately. Her clients, Liv Revamped and Jay Savage, are having some issues, but Kendra's ready to help out on all fronts — including fulfilling Liv's fantasy of getting with older women. Kendra literally dictates this scene, teaching "naïve" lil Liv how to really touch a woman. Jay leaves the room for the first bit, so Kendra can offer some one-on-one advice.
"So this is sex therapy?" Jay says when he comes back, ogling Kendra's jiggly, sexy bootie. "This is sex therapy," Kendra says coquettishly, inviting him to join with a saucy grin. Kendra, still dictating the scene, helps Jay lead Liv to an orgasm, then fuck her silly, too. Though Liv's character is the quiet type, she does an awesome job alongside Kendra in this one, and you see her bloom as a sexual deviant after, y'know, the "sex therapy." When Jay comes on Kendra's face, Liv is right there to lap it all up. Yum.
Last, but definitely not least, Kendra takes on Logan Pierce and India Summer, who play a mix between (reverse) cucks and swingers. "I would like to watch you two briefly," India says, and man her voice is h-o-t and sultry. "You have the pussy," Kendra states, "You make the rules." And Kendra obliges, running her hands over Logan's boyish body. India is gobstruck, and offers multiple comments about Kendra's body. "We've never had someone as gorgeous as you," India says.
Apart from Kendra, who is always stellar, India is a strong standout. In this scene, she commands Kendra and lil Logan, places them in positions she wants and leads them both on the road to ecstasy, but she takes special care of KL. "Make sure you worship her," India demands of Logan, who is all but eager to oblige. I'll say Kendra Lust absolutely saved the best for last, because India and Kendra are fuckin' firecrackers together. Your load will definitely explode.
Kendra Lust never disappoints! I'd get this one ASAP.
Synopsis:
Kendra Lust joins in with four more couples to give them the fuck of their lives! Everything's hotter when you mix in a third like Kendra! She gets everyone off and cums hard doing it!