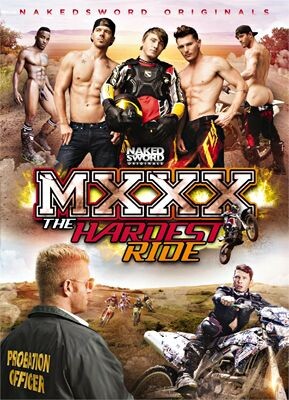 A scrappy, sexy Motocross-themed adventure sexpic based on a true-to-life story from leading man Tom Faulk and infused with authentic flavor by mr. Pam, the current XBIZ Gay Director of the Year.
Shot in and around the neighborhoods surrounding a rural Motocross track in Texas, the flick includes B-roll footage that takes full advantage of Faulk's facility and fondness for biking. He and Sean Duran play bro-y dudes lusting after a tattooed (female) beauty at a raucous party who dares them to do each other instead. Duran is burly, hairy and inked and he keeps up with Faulk, egging him on, as if he doesn't dare fully submit to man-on-man pleasures of the flesh. Whether this happened naturally or was planned, the erotic tension here really works.
Elsewhere, square-jawed dreamboat Ryan Rose is paired with Pheonix Fellington, African-American and inked with a superbly sculpted physique. The two seem to share an authentic, sensual chemistry. Rose is typically all-business when he fucks, which is more than enough with that face, body and cock, but he opens up to show more attentiveness and an appealing sensuality with the right man. Fellington appears to be that guy. Their sex runs more than 30 minutes and doesn't feel overlong.
Blond musclebod Johnny V. is a lawman taunted by Faulk's gang of bad boys on bikes. He finally catches up to Gabriel Alanzo and takes out a very specific method of punishment. Outdoors, he orders Alanzo to keep quiet as he blows him behind a shed, then bends him over to throw a furious, intense fuck into the very willing Alanzo's tight ass. Fans of musclemen will enjoy the sight of Johnny V. flexing his sculpted, sweaty physique as he rams his cock into Alanzo and unleashes a splattery cumshot.
Brent Corrigan and JJ Knight turn up for a terrific flip-fuck. The real-life couple have explored every each of each other's bodies – both of them fit and tanned and hung – and they know how to display them for Pam's attentive camera. Corrigan tries to choke down Knight's python, while Knight does deep-throat Corrigan and licks his hole with relish. As in the rest of the film, the fucking and assplay has an intense, almost angry component.
There is just enough storyline to maintain interest; Corrigan, a naturally charismatic stud, has matured into a strong actor who anchors his performance in genuine emotion. He understands how to simply be still and hold the camera.
Pam is known for paying close attention to detail — such as lingering on a jagged red gash, held together with recent stitches, that Faulk sports below his left shoulder on his back — and her camerawork and editing for this project lend an appealingly authentic flavor to the endeavor.
Synopsis:
Life's pretty awesome for Tom Faulk. The carefree 24-year old spends his days drinking beer, smoking weed and going balls-to-the-wall with his motocross buddies; pulling stunts, jumps, burnouts, and tearing up the acreage around his uncle's ranch with dreams of going pro. Drunken parties, testosterone induced brawls, brutal grunge sex, and a pissed off probation officer bring everything to a head. With the help of his cousin (Brent Corrigan) and his uncle (J.J. Knight), Tom realizes it's time to leave his Texas Neverland for the real world. The only question is can he do it?