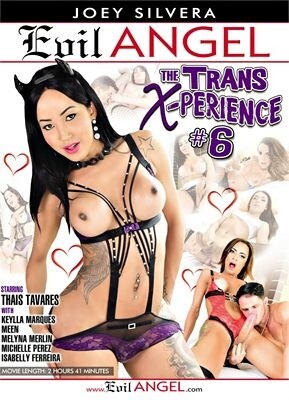 Joey Silvera pairs four trans-girls with guys. Brazilian Keylla Marques, with tits like mini-bowling balls, gets her thick cock hard so Alex Victor can play with it. He likes it so much he even sits on it and pumps it up and down in his ass. He seems to like the way Keylla fucks him. It's almost romantic.
Michelle Perez (the only non-Brazilian) has a long dick and a nice rosebud asshole that Gabriel D'Allessandro licks and fingers. He fucks her in mish with her legs in the air. Then it's his turn to be fucked by her. After she comes he shoots on her face.
Exotic Thais Tavares is all tattooed and pierced, with big round tits. Alex returns to lick her thighs and worship her dick. She lubes up her smallish but hard cock to fuck him. With plenty of lube he slides his dick into her butthole. She comes on herself while he's inside her.
Melyna Merlin and the tireless Alex start by trading blowjobs. She practically swallows his penis then fucks him on his back. He fucks her hard in several positions, then comes all over her.
Joey wraps things up with two brief solo scenes from newbies Isabelly Ferreira and Meen.
Synopsis:
Director Joey Silvera, the father of modern TS porn, presents The Trans X-Perience #6, starring Brazilian, American and Thai T-girl treats. Busty, racy Keylla Marques towers over stud Alex Victor, fucking his face. She pounds his ass; he sucks her diamond-hard meat ass-to-mouth and deeply rims her bunghole. Super-friendly, all-American trans-girl Michele Perez shows off in pink lingerie: "It's a feminine cock; it's pretty," she says of her long, imposing erection. Gabriel slurps up her jism and blasts his own load on Michele's smile. Exotic Thais Tavares has almond eyes, rad tats and piercings. With Alex's cock up her ass, she blows her wad on her freaky, bejeweled navel - it's an "outie," just like Thais! Alex slops her cleavage and face in messy cum. Tattooed, tight Melyna Merlin gets on top of Alex for 69. Her meat hammers his hole balls-deep as her muscular butt cheeks flex. Pretty Isabelly Ferreira has tan-lined boobs and silver manicured fingers, but she can wag her stiff dick with no hands! Longhaired Thai T-girl Meen inserts a pink vibe in her butthole and whips out a sprinkling of spunk ... but she keeps going till a heavier, creamier load splashes her flat tummy.