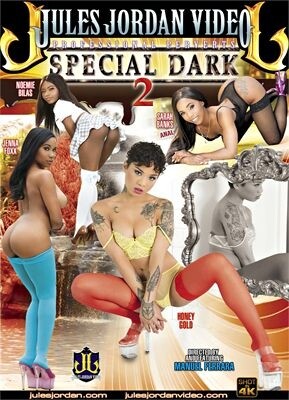 From Jules Jordan Video, the uncut French trouser croissant of Manuel Ferrara sinks into the cunts (and one anus!) of four black babes. And how Manny can fuck and direct at the same time truly amazes me.
Short-haired, tattooed black beauty Honey Gold is up first, and she's absolutely a great cunt with which to start these interracial porkings. Gold gives a golden, saliva-drenched BJ (complete with a little fart eating), before Manny plugs her cowgirl style (but a bit too briefly), followed by reverse cowgirl, more blowjobbin', some facesitting and then doggie (during which he sticks his thumb up/down her anus), which is a definite highpoint in her Ferrara fucking, with a terrific overhead shot of her luscious pooper. After some titty-fucking (by Manuel, not Honey) and some squirting, we have spoon slamming, missionary manhandling, then sperm shooting onto Honey's mouth, after which she plays with the nasty Parisian paste, before swallowing the gunk.
Next, Sarah Banks takes it up the ass. But not before Manny pounds her pussy good and hard. Her tonsils, too. I dig how milk is poured all over Sarah's butt in slo-mo during her glam session. Eventually, Manny pours oil all over the whore's body before Sarah sucks his dick (and, yet again, partakes of some French flatulence). Then we get cowgirl vadge (with some rockin' butt-cheek jigglin'), doggie vadge, doggie anal (deep and pounding), a still-steaming-out-of-shithole ATM, spoon anal (her big ass lookin' great in this position, too!), more doggie anal, another gnarly ATM, mish anal and a craphole creampie, some o' the spurt from which she squeezes onto the floor. Sarah's a dirty whore.
Jenna J. Foxx, one of my faves in the lot o' slots here, is next, offering one of the very best scenes, because she's such a luscious (buxom, even), ever-smiling, upbeat cutie. After some cunt-eating, Manny feeds Foxx his uncircumcised Gallic worm, before she rides him cowgirl style, with some more cocksucking, then spoon-skewering, doggie drilling, mish missile-dunking (I like how she manages to suck her own tits), more doggie dumping (this time with some cheek-jiggling action), and finally a big splash of spunk onto her lips and tongue. I wanna see more o' this whore!
Up next is Noemi Bilas, who has a choice dark, all-natural body, which looks all the better when it's getting salami-stuffed. After Bilas offers a BJ, we have a nice view of her booty during cowgirl (with some great ass-jigglin' action), followed by spoon, reverse cowgirl (which shows off her tasty, tight, compact bod), more dick-slurpin' (with plenty of appreciated eye contact), some choking (literal), more doggie (with Manny uncontrollably getting his pinky stinky up her doo-doo), more reverse cowgirl, spoon, blowjobin' and, finally, splat (!) goes the weasel.
If you like black girls who love white (even French!) cock, "Special Dark" is right up your park. It's a veritable feast for the sexual senses.
Synopsis:
Manuel Takes a Walk on the Darkside in this Interracial Encounter with Four of the Hottest Black Stars.