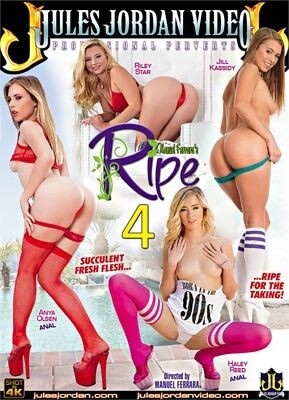 Performer/director Manuel Ferrara, and his ever-wagging uncut French baguette, bangs several (four to be exact) of the most bangable newbies in porn — two in the anus, even!
After a candid interview (with some female asking questions behind the camera, not Manuel, unless he's disguising his voice), cute-as-hell Haley Reed sucks Manny's prick like a champ (love her purple thigh-high stockings), before monsieur seriously hammers her doggie style. She then eats his flatulence, before taking all of his uncircumcised wiener spoon style, with Ferrara's bald-headed rat soon worming it's way into her anus, and he pounds the babe damn hard in this posish, too, as well as in the pro-seeding reverse-cowgirl stance, after which we get a much-appreciated deepthroat ATM, then some (yes!) doggy anal. Haley definitely possesses a great ass, while providing a few choice gaper-oonis, which she presents in the mish posish soon enough, before taking a good splat-splat-splat across the mug. Good girl!
Blonde Riley Star, only in the jizz biz for two months, has a truly juicy body (what a delicious-looking pear-shaped ass!), with (like Haley) sweet little all-natural tits, as she lets our man Manny really Manny-handle her (love it!). A highlight is definitely doggie, while cowgirl also duly showcases Star's tasty tukus. And, being the true French romantic, Manny gets some squirt in Star's left eyeball. Nice shot!
Anya Olsen is the next babe who gets her (hooray!) tonsils and anus stretched way, way out. After an interview conducted by Manny (where did that girl's voice go?), Olsen offers a nasty blowjob, with spoon fucking showing off her scrumptious butt, followed by some cowgirl. But it's spoon anal which really magnificently frames her killer butt cheeks. Anya's a competent ATMer, too! Doggie anal (as you might guess) totally rocks, with quite an awesome gape at the end, before Ferrara cornholes the whore mish, deep and hard, after which we have more doggy anal, another gape, some fart-eating, more blowjobin', a wee bit o' cowgirl anal, a return to spoon crap-shootin', and a hefty sperm deposit on the ol' Olsen tongue, followed by a brief stretch (you can say that again!) of a lil' more doggie anal.
Lastly, after a Manny interview, the very pretty Jill Kassidy — and her outrageously luscious bod — gets down and dirty with our resident Parisian's pud. Actually, Jill may have the most perfect body in this quartet of amazing babes, and that's saying a lot with all o' these true beauties! She's a slow and passionate cocksucker, and her ass-tounding butt cheeks look all the more amazing jiggling during cowgirl. For the raunch record, Jill's unaltered tits look all the more superb during reverse-cowgirl, while Kassidy getting it doggy style is ab-so-fucking-lutely phenomenal. What a perfect ass on this wench! I even like her relatively old-fashioned BJ, which is, again, more loving than loud 'n' sloppy. After some more doggy and mish (Jill's boner-bursting body is really well documented in the latter posish!), Manny sprays warm brie onto her mug. Great gal!
"Ripe 4" is an all-around wanking winner, with one horny, mouthwateringly sexy sweetie after another getting reamed 'n' creamed.
Synopsis:
Anya Olsen begs for Manuel's cock deep in her ass. Haley Reed shows off her gaping skills. Jill Kassidy is fresh off the bus but knows how to fuck. Riley Star takes a deep, hard pounding.