The Dark Side of Keisha Grey
Dogfart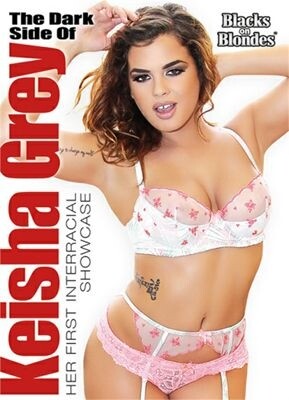 From the classy folks at Dogfart Productions, we get a terrific interracial showcase of one of porn's most sizzling sluts — complete with her perfect tits and ass — the phenomenal Keisha Grey.
And we're off to a raging start, with Keisha, Chanel Preston and Valentina Nappi all getting it on with three of the gents. The girls even triple-suck each of the guys in a big hot tub before they all move indoors to a more cum-fortable orgy setting. After some cunt-eating by the boys, the harlots get slammed in various horny positions, with some nice interspersing of BJs. Naturally, a highlight is seeing our girl Keisha get dicked doggy style. Oh, and all the girls — being the true butt sluts that they are — take it up the shithole, making for one altogether volcanic scene, complete with a few choice ATMs, with everyone regularly switching partners. For the record, Nappi gets briefly DPd, with a couple o' nice ATOGMs, before each fella sprays seed on the girls' grouped-together faces. Awesome.
Looking good even without any makeup, Keisha next bangs her white boyfriend's black buddy with some steamy results. While her boyfriend is watching, Keisha gets down with the Bostonian BBC upon an oval outdoor sofa. And after several vaginal positions, Keisha finally takes it deep up her turd bin during missionary, followed by a great, choking-on-cock ATM. Doggie anal kicks ass, too, as it's deep and hard, followed by another non-cheating ATM, and the ol' pop shot.
Next, Keisha gets seriously plugged a la massive Mandingo manroot. Trying her best to deepthroat Manny's humongous hose (it's an absolute pleasure to watch her futile but trampish efforts), Keisha takes him up all the way up her ass, doggy style. Wow! Highly impressive! He plants it well down into that soil, too. After an attractive ATM, it's soon missionary anal, another ATM, reverse-cowgirl anal, yet another ATM, more doggie anal, spoon anal, and, finally, the pop shot. Manny really works this fine bitch.
Cute Keisha next goes into a dark bar wherein she does a nasty blowbang with six to seven BBC-wielding fellas (might even be eight, as they just keep materializing; hell, I think they even get the mailman in there)! Talk about an amazing deepthroater. She even lets two of them fuck her. I wish there were more vaginal slamming here — and downright gangbangin'! — but, still, it's a pretty memorable meshing of mouth upon many a member. Love all o' that saliva just drippin' out of her cake hole, too. And our wondrous whore's not one to shy away from a head-on blast o' sperm, neither.
Then, after sucking and fucking (doggy style) a massive black phantom dick through a gloryhole, she shares a black pud in the next scene with Britney Amber; the latter sex being amongst the patio furniture, for all you interior/exterior decorators out there. The girls offer a nice double-suck, followed by Keisha doing cowgirl, with her big tits magically flowing around a bit. It's fun, too, seeing Britney get it doggy style. But doggie entry is, of course, even better with the amazing Keisha, who, 'natch, can't help but take it up the poo-poo. Britney does, as(s) well, during her back-slam session. Some fine ATOGMs follow; missionary anal with Brit; an exciting ATOGM from Keisha, who gets her own shitter split in the mish posish soon thereafter. Once again, doggie anal a la Keisha is fanny-tastic, with Brit taking the pop shot in her kisser, then sharing the still-steaming gunk with Keesh.
"The Dark Side of Keisha Grey" rocks from beginning to end, as does Ms. Grey's fine end. Don't miss it.
Synopsis:
Keisha Grey in her first interracial showcase! Enjoy six scenes of intense interracial action with Keisha Grey and her friends!