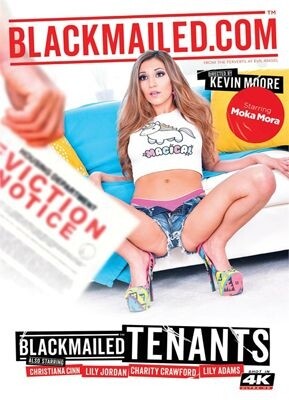 There's something quite evil about landlords blackmailing their soon to be evicted tenants, but hey … we love it! And director Kevin Moore delivers some seriously naughty nonsense in "Blackmailed Tenants."
To start, petite and all-natural Moka Mora takes on her landlord, who she calls "a creep asshole, a pervert and a bastard." She definitely does not enjoy sucking his dick, but this POV is delicious for anyone who's ever had a fantasy of extorting a hot chick. She bounces on the dick rapturously, and then even lets the landlord fuck her in the ass. "Extorted sodomy is a part of life," he explains to her, while polishing his dick. Yikes! And hot.
Right after, Lily Adams gets a serving of big dick, too, at the hands of her own landlord. She calls him "a real fucking sicko" and in reply, he just laughs and plows her harder. "Make it bounce," he yells in ecstasy, pushing Lily down on his dick harder. "Just like your rent checks!" Lily, despite her earlier apprehension, moans and groans with every thrust of her landlord's dick. To close the shot, he chokes her and cums on her face.
Lesbians Lily Jordan and Charity Crawford are interrupted mid-fuck when their landlord comes barging in. He lets them know that, unless they follow his orders, they'll be homeless. Pretty visibly uncomfortable, Lily and Charity agree and suck the landlord's piece of man meat. In between sucking him off, he makes them eat each other out then slobber on his cock. To their dismay, he comes on both their pretty faces, after which they promptly declare him a "fucking creep."
Last, but certainly not least, Christiana Cinn is caught masturbating by her business rival, who then presses her to do some really slutty things. She looks gorgeous in her matching nude dress and nude heels, slobbering all over his dick. Then, Christiana rides his dick until she cums.
Let this be a lesson for all of you! Pay your bills, or you might be paying for it with your ass and your legs behind your head. (In that case, maybe we'll forget to pay one or two bills … ha!)
Synopsis:
Creepy landlords get their pound of flesh by pounding the flesh of indebted renters in director Kevin Moore's Blackmailed Tenants. Faced with a choice of erection or eviction, hot but irresponsible girls learn all about compromised positions. Petite, natural-breasted Moka Mora calls her landlord a creep, an asshole, a pervert and a bastard. She's scared and uncomfortable sucking his big boner and fucking joylessly. To get out of arrears, pouting Moka lets him ream her rear. (He says extorted sodomy is "part of life.") Brown-eyed, broke student Lily Adams labels her blackmailing landlord "a real fucking sicko." He fucks her angry, bewildered face and she scowls as he feels up her hot ass. "Make it bounce, just like your rent checks," cracks the extortionist. He screws and chokes her to orgasm. A massive cum blast obliterates her face and her debt. Passionate, young lesbians Lily Jordan and Charity Crawford are making love when their voyeuristic landlord breaks in - they'll be homeless if they don't follow orders. He makes them lick and rim each other as he plows pussies. Gorgeous Charity is visibly horrified to take dick in her bald twat. Plush-lipped Christiana Cinn gets caught masturbating by a business rival. He coerces her into dirty slut behavior. Over each girl's begging, disgusted objections, a blackmailer jerks jism on her face.