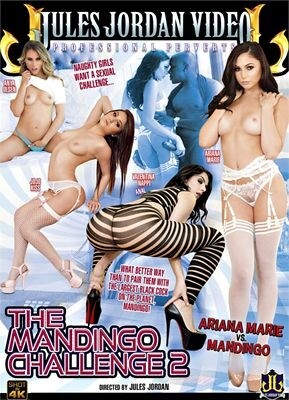 One of the biggest dicks in the biz challenges four hot women to take it and like it. But only the incredibly sensuous Valentina Nappi dares to go all the way — up her ass. She responds erotically to the monster cock in her pussy. When he sinks it in her ass she moans, "It's so fucking good," and rides it joyously in reverse cowgirl. For Valentina, Mandingo + anal seems like a sexually fulfilling walk in the park.
Anya Olsen, who looks scrumptious, also has a good time. "Wow!" she screams as the full Mandingo erection is exposed. She giggles and purrs as he makes the first entry and laughs with pleasure as she mounts it in reverse cowgirl.
JoJo Kiss says, "I don't even know if I can get my mouth around this." But she grabs it with both hands and does her best, resulting in streams of saliva. She gives it her all but has to take a break. Afterwards, she tries again but it does look a bit stressful.
Delicate-looking Ariana Marie sucks the huge dick gingerly but hungrily. She's a bit breathless when he enters her pussy and wiggles her butt as it penetrates. He picks up speed as she rubs her clit and seems to get thrust deepest in the cowgirl position.
Synopsis:
Naughty Girls Want a Sexual Challenge... What Better Way Than to Pair Them with the Largest Black Cock on the Planet, Mandingo!