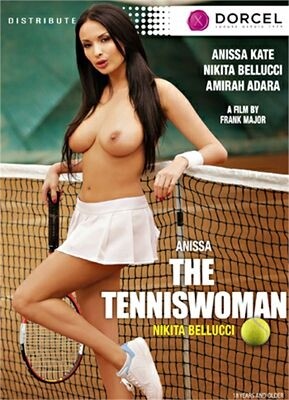 From Marc Dorcel Productions, this Euro title might only feature three ladies (two French babes, one Hungarian hottie), but they're all good anal whores definitely worth catching.
Sick of her rich, tennis mogul of a husband cheating on her right under her very nose (or amazing tits and ass, if you will), French knockout Anissa Kate seduces some lucky prick, Kristof Cale, by the deserted indoor swimming pool at the ol' tennis club, letting him drill her in the dung ditch. Brunette Anissa has incredible all-natural, fairly large boobs, one tasty ass and a pretty mug, making her cornholing quite the treat. Standing doggie anal is choice (she doesn't mind ATMs), followed, on a more comfortable exercise bench, with reverse-cowgirl, missionary and spoon anal, which includes some terrific close-ups of the dirty dick-dunking action. Doggie anal is repeated, but this time with Anissa properly bent over and fully displaying her fine ass, with a few choice gapes, after which Cale comes on Anissa anus. Nice.
Next, Anissa's on-screen husband, Renato, is really lucky in that he gets to bang one of my all-time favorite Euro tramps, incomparable French slut Nikita Bellucci, right in the patooti. Unfortunately, he bypasses Bellucci's pussy, going straight for her sphincter, but that just means we get molten shit-pit-hitting right away — doggie style, too … and on a voluminous, comfy sofa! We then are served with anal a la reverse-cowgirl (with one great gape and an ATM), cowgirl (including some horny ass-jiggling moments and a wee bit o' spanking) and spoon (which is fairly pounding, indeed), followed by a precious Bellucci facial, mostly dripping onto her tongue. Grand whore.
Then, Hungarian hussy Amirah Adara anally gets it on (where else?) upon a huge, deserted tennis court (had to eventually have that particular scene in a movie called "The Tenniswoman," right?) with Messrs. Cale and Szabi (what a name?) getting their dicks wet — and brown. Adara has a cute, distinctive nose, reminding me a bit of American trollop Abella Danger. She's a good double (and single!) cocksucker. Cale doggies her, while standing, before Renato soon takes her asshole in the same position, while she sucks Cale. More double sucking follows, before the three pervs move to a bench, with some fun cowgirl (i.e., plenty of ass wobbling), reverse-cowgirl and spoon anal shared between our two boner boys; Amara doing her best to simultaneously stay focused on sucking cock during the majority of her poo-poo packin'.
Things are nicely rounded off with another Anissa sequence, as she and her cheating hubby, Renato, get it on in that same big empty tennis court, with plenty of, natch, crap-cave crammin'. Standing doggie anal is first, followed (on a workout bench) by reverse-cowgirl and missionary anal, the latter offering some wonderful close-ups/gapes. Renato ultimately fills her mouth with cum, which she rolls around upon her tongue, before swallowing the gunk. Blechh! Superb slut.
Featuring three awesome female foreign bods, "The Tenniswoman" is nasty enough for hardcore viewers, but so well shot, and with a smattering of plot (on top of several splatterings o' cum), that it's sure to equally satiate that elusive couples crowd out there somewhere.
Synopsis:
Anissa doesn't live a happy marriage anymore. Her husband, the owner of the tennis club, openly cheats on her with young nymphomaniacs. In order to clear her mind, she does what she loves most - playing tennis. It's a good thing that her tennis instructor is also very good at anal sex!